Regina King Posts Touching Tribute To Her Late Son One Year After His Death
Ian Alexander Jr. died by suicide in January 2022, days after his 26th birthday.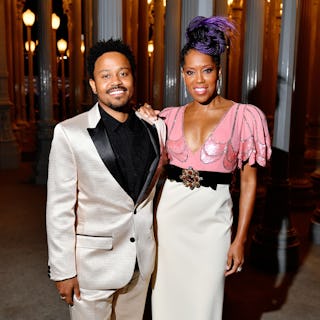 Emma McIntyre/Getty Images Entertainment/Getty Images
In her first social media post since her son Ian Alexander Jr.'s tragic death last year, Regina King celebrated her only child's life and light.
The Oscar-winning actor shared a heartfelt video of a floating lantern on Thursday, which would have been Ian's 27th birthday. The musician died by suicide on January 21, 2022 — just two days after his 26th birthday.
"January 19th is Ian's Worthday," King, 52, wrote on Instagram. "As we still process his physical absence, we celebrate his presence. We are all in different places on the planet…so is Ian. His spirit is the thread that connects us. Of course orange is your favorite color…Its the fire and the calm. I see you in everything I breath. My absolute favorite thing about myself is being ….Regina the mother of Ian the GodKing. Continue to shine bright,my guiding light. 🧡🧡🧡."
The post received love from fans and friends alike, with actors including Sarah Paulson, Reese Witherspoon, Justin Theroux, Julianne Moore, and Octavia Spencer sharing their support.
Filmmaker Ava DuVernay commented with an excerpt from Irish writer Róisín Kelly's poem "Oranges."
"I'll choose for myself next time who I'll reach out and take as mine, in the way I might stand at a fruit stall having decided to ignore the apples, the mangoes and the kiwis. But hold my hands above a pile of oranges as if to warm my skin before a fire," DuVernay shared.
King took a break from the public eye following her son's death, which she called devastating "at the deepest level" in a statement last year.
She made a red carpet appearance in June at an awards ceremony for the Filming Italy Festival in Santa Margherita di Pula, Italy, but remained off social media until this week.
"You don't know what unconditional love is. You may say you do, but if you don't have a child, you don't know what that is. But when you experience it, it is the most fulfilling ever," King said in a 2011 interview with CNN. "So, that is the greatest part about me. Being a mom to Ian."
King shared Ian with her ex-husband, record producer Ian Alexander Sr.
​​If you or someone you know needs help, contact the National Suicide Prevention Lifelineat at 988 any time. You can also contact the Crisis Text Line by texting "START" to 741-741.