Even Rihanna Thinks Finding Work-Life Balance Is 'Almost Impossible'
"No matter how you look at it, work is always something that's going to rob you of time with your child," she said.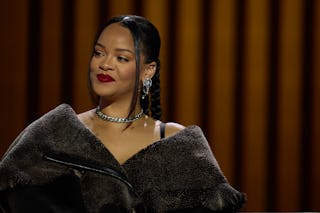 Cooper Neill/Getty Images Sport/Getty Images
I'm a single mom with two kids and no family in the area — and I can't tell you how often I think that balancing life as a professional and a parent would just be a little easier with just one more thing: a contributing partner, more money, a better car, a bigger house, a short-order cook, a live-in nanny, cleaners, private school, a driver, a personal trainer... you know, the list goes on and on.
It's easy to think that I'd be a little less crazed and a lot more balanced if I only had more support and more money. But at the same time, when I read about celebrity moms, it's basically the same story: they are barely making it work, despite their resources! They are stressed, just like me, even though they probably have a private chef making them a nice healthy baby kale salad on their expansive kitchen island as we speak. "Having it all" doesn't really seem to be an option for women today, in our culture and society, no matter how much success you've found. And it doesn't matter if you've got the means to have a night nanny or a summer home or a personal assistant.
Rihanna is the latest new mom to discover that work-life balance isn't a breeze even when mama is a literal billionaire. The music icon spoke to InStyle on Thursday as her Super Bowl Halftime Show approaches this weekend, and eight months into parenthood, she's realizing that working moms face an impossible task and impossible choices.
"The balance is almost impossible because no matter how you look at it, work is always something that's going to rob you of time with your child," she told InStyle. "That's the currency now, that's where it goes. The magnitude of how much it weighs."
The issue, she is saying, is that having it all means doing it all. And none of us can do it all, at least not with how our culture currently functions.
"When you make decisions of what you're going to say yes to, it has to be worth it," she continued, speaking about her choice to say yes to the Super Bowl, just three months after giving birth to her son. She decided to do it because, "It's important for me to do this this year. It's important for representation. It's important for my son to see this."
She is far from the first celebrity mom to discover that wealth doesn't completely cancel out the biggest problem women face today: the expectation that they can and should be in more than one place at once.
Earlier this year, Julia Roberts opened up to New York Magazine about how her struggle for work-life balance meant she put her career on the back burner while her kids were growing up. She had to choose to be a "homemaker" (her words) over America's Sweetheart. At least for a long stretch.
"That raises the bar even more," she said, talking about how careful she was about taking roles when her kids were little. "Because then it's not only is this material good? It's also the math equation of my husband's work schedule and the kids' school schedule and summer vacation. It's not just, Oh, I think I want to do this."
GOAT tennis star Venus Williams also made headlines in 2022 for basically retiring from her career in order to try and have a second child.
"Believe me, I never wanted to have to choose between tennis and a family," the 23-time Grand Slam champion wrote in her announcement, published in Vogue. "I don't think it's fair. If I were a guy, I wouldn't be writing this because I'd be out there playing and winning while my wife was doing the physical labor of expanding our family. Maybe I'd be more of a Tom Brady if I had that opportunity."
She's right. It's not fair. It feels like 50 percent of the population of parents is struggling with finding any sort of balance, while the other half is not, or at least not to the same extent.
It's not that privilege doesn't help, it absolutely does. It's not that money doesn't help, it most certainly does. It's just that even when moms have every possible resource at their fingertips, they face more barriers on their way to work-life balance than dads do.
It's because society has different expectations for women.
It's because parenting is still not seen as the full-time job it is.
It's because women are judged on the quality their parenthood exponentially more than men.
It's because of sexism and misogyny.
It's the reason that you don't see any interviews with Rihanna's fellow billionaire Elon Musk in which he speaks about how to properly care for his 10 children while also pursuing his work goals. Or Jeff Bezos. or Mark Zuckerberg. In fact, how often do we even think about their kids? And how often do interviewers ask them about it: "Hey, Elon, how are juggling ruining Twitter while also raising your two youngest children? While we're at it, who's watching your kids right now?"
But what these celebrity moms struggling with work-life balance show us is that even if we fixed all that, we need change on a societal and cultural level. And until then, some of our smartest, most talented, most amazing moms are going to be struggling just to show up, both at home and in their careers. Even if someone did make them nice baby kale salad for lunch.