Riley Keough Reveals She Has A Daughter At Mom Lisa Marie Presley's Memorial Service
The actor's husband, Ben Smith-Petersen, delivered a tribute on Keough's behalf, saying, "I hope I can love my daughter the way you loved me, the way you loved my brother and my sisters."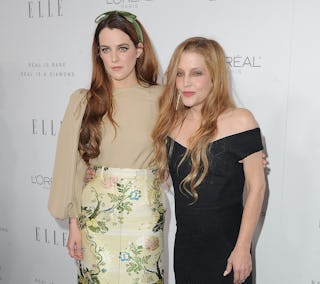 Jon Kopaloff/FilmMagic/Getty Images
During her mother Lisa Marie Presley's memorial service at Graceland in Memphis, Tennessee, on Sunday, actor Riley Keough revealed she and her husband, Ben Smith-Petersen, recently welcomed a daughter.
In a loving tribute to Presley, delivered by Smith-Petersen on his wife's behalf, Keough said, "I hope I can love my daughter the way you loved me, the way you loved my brother and my sisters. Thank you for giving me strength, my heart, my empathy, my courage, my sense of humor, my manners, my temper, my wildness, my tenacity. I'm a product of your heart, my sisters are a product of your heart, my brother is a product of your heart."
The couple did not share any further details about their baby girl, but a rep for Keough confirmed to People that she gave birth in 2022.
Keough's words resonated with the crowd at the service, as Smith-Petersen shared his wife's cherished memories with Presley, who died on Jan. 12 at the age of 54.
"I'm eternally grateful to have spent 33 years with you," the tribute read. "I'm certain I chose the best mother for me in this world ... I remember everything. I remember you giving me baths as a baby. I remember the way you would cuddle me ... and the way you smelled. I remember all the notes you'd leave in my lunchbox every day. I remember the feeling I'd get when I'd see you picking me up from school ... I remember how it felt to be loved by the most loving mother I've ever known. Thank you for showing me love is the only thing that matters in this life," Smith-Petersen said as Keough sat in the front row with her family members, including her grandmother, Priscilla Presley.
A week after her mother's untimely death, the 33-year-old Daisy Jones & The Six star took to social media to share a throwback photo and a simple message with her followers. Keough posted a heart emoji alongside a picture from her childhood of herself and her mom.
"Sending you so much love ❤️❤️❤️," fellow actor Jenna Dewan commented, with Kim Kardashian adding an infinity symbol and model Rosie Huntington-Whiteley writing, "Been thinking of you so much ❤️."
Presley died after being hospitalized following an apparent cardiac arrest. A cause of death was not determined by an autopsy and the medical examiner requested further investigation, according to CNN.
Presley's son and Riley's brother, Benjamin, tragically died by suicide in July 2020 at the age of 27. She was also the mother of 14-year-old twin daughters, Harper and Finley, with her ex-husband, Michael Lockwood.
"It's a real choice to keep going, one that I have to make every single day and one that is constantly challenging to say the least ... But I keep going for my girls. I keep going because my son made it very clear in his final moments that taking care of his little sisters and looking out for them were on the forefront of his concerns and his mind. He absolutely adored them and they him," Presley wrote in an People essay about grief just five months before her death. "Me and my three daughters' lives as we knew it were completely detonated and destroyed by his death. We live in this every. Single. Day."
Days before her death, Presley attended the Golden Globe Awards with her mother, Priscilla Presley, in support of the movie Elvis — Baz Luhrmann's biopic about her father starring Austin Butler.
She was in good spirits but appeared "unsteady" on the red carpet, according to Extra.
"My heart is completely shattered for Riley, Finley, Harper and Priscilla at the tragic and unexpected loss of Lisa Marie," Butler said in a statement to Variety. "I am eternally grateful for the time I was lucky enough to be near her bright light and will forever cherish the quiet moments we shared. Her warmth, her love and her authenticity will always be remembered."
Luhrmann added in an Instagram post, "Her sudden, shocking loss has devastated people all around the world. I know her fans everywhere join me in sharing prayers of love and support with her mother, Priscilla, and her wonderful daughters Riley, Finley and Harper."
​​If you or someone you know needs help, contact the National Suicide Prevention Lifeline at 988 any time. You can also contact the Crisis Text Line by texting "START" to 741-741.
This article was originally published on