19 Books That Are Actually Better In Audio Form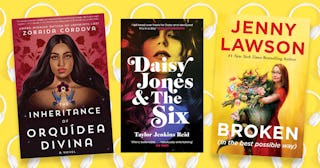 Scary Mommy, Amazon and Dziggyfoto/Getty
The movie is never better than the book, but sometimes the audiobook is
We all love reading books. And there is something so special about feeling the weight of a book in your hands, leafing through the pages, and smelling that ink-on-paper new book smell. But also—there are just some books that are simply better to listen to than to read.
We've collected our very favorite audiobooks for you—stories that we are super sure are better to listen to than to read silently. What makes them better? In some cases, it's killer production value, like added music, sound effects or other extras. Other times, it's a celebrity reader, like Tom Hanks or Cate Blanchett. And still other times, it's because it's read by the author, and that adds a layer of closeness and power and intimacy (we cannot think of a better word for it, sorry!) that it takes it to the next level.
So: if you're off on an amazing road trip or plane ride, or if you've got seven loads of laundry to fold (we are projecting), or if you need company on your daily walk, we have some amazing audiobook picks for you.
Best of all, Audible is having a major deal right now: Audible Premium Plus will be available to customers at 53% off, so if you don't have Audible, but are interested in trying it out, now's the time. This promotion only applies if you're a Prime member (sign up today if you're not — you get a free 30-day trial).
Want to read the book with your eyes and not your ears? No problem. Right now, if you're a Prime member, you can get a four month free Kindle trial for Prime Day.
And never forget: listening to an audiobook is just as good as reading! It's science!
Scary Mommy Book Club On Audible
Did you know we have a home on Audible? Check out our Audible homepage to see what we're reading now as well as some of our best audiobook recommendations. You can always listen to our pick for free when you sign up for an Audible free trial.
This month, we're reading The Inheritance of Orquídea Divina by Zoraida Córdova.
Audiobook novels that are better than the hard copy
It's so hard to find time to read a novel, especially if you have kids, but even if you're just juggling a lot of responsibilities. Audiobooks allow us to read while we're cleaning, cooking, jogging, or basically any other –ing, and the following fiction audiobooks can be an even better experience than if you really did have time to put up your feet and read traditionally.
Memorable audiobook memoirs
Many of our top picks for audiobooks that are better than the actual book are memoirs—and that makes good sense, because hearing a person's story straight from their mouth can be even more powerful than reading their written words. This seems to hold especially true for memoirs by comedians and memoirs that cover tough or sensitive topics (and some of the following memoirs do both).
Audiobook YA picks that we love
In the past decade or two, young adult literature has grown so much as a genre, gaining respect and readers from every age group. The below audiobooks are so good you don't need a kid to have an excuse to read them at all, although they're also great for family time and family trips, whether you're driving cross country or washing the dishes after dinner.