Sarah Herron Shares Heartbreaking News That Her Newborn Son Has Died
The 'Bachelor' star wrote that her son Oliver died in his "dad's arms" after being born at 24 weeks.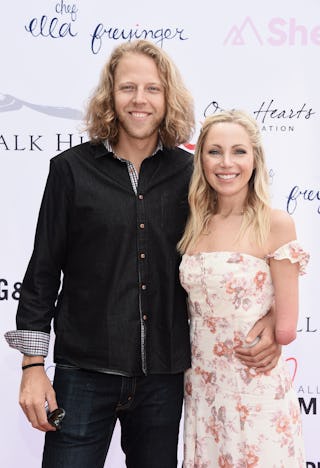 Amanda Edwards/Getty Images Entertainment/Getty Images
Sarah Herron and her fiancé Dylan Brown lost their newborn son on Saturday, hours after the baby was born prematurely at 24 weeks. The Bachelor star shared the heartbreaking news on Instagram, posting a black and white family photo from the hospital of the three of them together — the baby cradled in Herron's arms while Brown kisses her head.
They named their baby Oliver.
"On January 28th, at 24 weeks old, our beautiful son Oliver Brown was born. He passed away in his dad's arms shortly after," she wrote. "There are no words for the magnitude of loss and pain we're experiencing. It's beautiful and simultaneously tragic. He had my nose and his dad's mouth and long fingers."
Herron shared that both conception and pregnancy had been difficult and complicated.
"Oliver, our IVF miracle defied so many odds and fought through so many hard milestones to be here, but the higher powers still had other plans for the three of us."
Despite her heartbreak, Herron, 36, shared how grateful she is for the time that they got to spend with their baby.
"Our time together was short, but we are grateful for the days we had with Oliver in my belly," she continued. "He has taught us so much about the integrity of life, love and death. Oliver filled our home and hearts with so much love and most importantly, optimism. The stars aligned to create Baby Oliver with a deep, meaningful purpose bigger than we'll ever understand. His body was small, but his legacy will always be larger than life to us."
Along with the family photo, Herron shared pictures from throughout her pregnancy, from snorkeling to walks on the beach to time snuggled with the family's dog, Rio.
"Oliver swam with sea turtles, he kept me company while I recovered from a broken knee, and he loved his dad's cooking," she wrote. "Most of all, Oliver loved his morning routine of laying heart to heart with his brother, Rio, on my lap."
"While our hearts are shattered beyond comprehension, we are comforted knowing that our son's soul only ever knew love and will not suffer in a body that wasn't built for this life," she wrote. "We'll never understand the cruelty of it all, but through the darkness, Oliver remains so so bright. We love you so much, baby boy. You will never be replaced. You are so perfect and awesome."
She concluded the message with, "Love Mommy and Daddy."
Herron announced her pregnancy back in September, after a year-long IVF journey to conceive.
"Dylan and I know the road ahead is long, but we are cautiously optimistic," she wrote on Instagram at the time. "We have completed 3 rounds of egg retrievals, and one embryo transfer that ended in a chemical pregnancy in 2021."
The couple fell in love on 2017 (not on The Bachelor) after she appeared on Season 17 of The Bachelor as well as Bachelor in Paradise Seasons 1 and 3. They started their IVF journey in 2021.