You Can Rent The Party House From 'Scream' On Airbnb
by Valerie Williams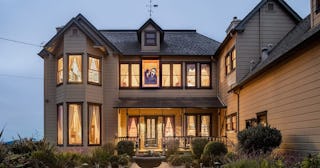 Airbnb
A few lucky Airbnb renters will be able to say they spent a night in the "Scream" party house
If you're looking for a seriously next-level event to round out your spooky October activities, look no further — especially if you're a card-carrying millennial who remembers being terrified by the first Scream movie in theaters. The party house from the original film is now listed on Airbnb so three lucky groups can stay overnight and scare the absolute crap out of themselves.
The three one-night stays (for up to four people each night) are happening in honor of the classic horror film's upcoming 25th anniversary along with the upcoming fifth installment in the long-running franchise. The home, located in Tomales, CA, was where the very memorable final scenes of the 1996 movie were filmed and you can now find yourself and three lucky friends right where that action took place.
Oh, and it's "hosted" by Dewey Riley.
"As the local sheriff, it's my duty to be your host to keep everything under control for your stay at the SCREAM house," the listing reads. "What could possibly go wrong? In honor of SCREAM's 25th anniversary and the upcoming 2022 film, face your fears and stay the night where Ghostface's terrors began."
The stay includes a marathon viewing of all four films, classic '90s sleepover snacks, Scream memorabilia, and a virtual greeting from Riley himself — actor David Arquette.
There's also a phone line connecting guests to Ghostface, and that probably guarantees you'll be on the receiving end of some pretty unsettling phone calls throughout the night.
The listing says guests can explore the house and marvel at all the details left from the film from "knife marks on the doors to the garage where my sister Tatum met her unfortunate demise."
"Step back in time circa 1996, where you'll be instantly transported to the town of Woodsboro and all the mischance that surrounds it," the listing reads. "You and up to three guests can stay the night (if you think you can handle it)… Ghostface has returned to terrorize our town, so we'll need to be careful to avoid any encounters (we all know he loves to make an entrance)."
The listing goes live on October 12th at 1pm EST and the stays are on the nights of Oct. 27, 29, and 31.
If you aren't one of the lucky few able to nab a night in the house, Scream screenwriter Kevin Williamson will be hosting a Secrets of Scream online experience, which you can book through Airbnb. The Zoom session will run you $100, and proceeds will go to The Trevor Project.
If this sounds like your jam, be ready to book one of the nights tomorrow. The fifth film comes out in January 2022.