Seth Rogen Says "Thank God" He Doesn't Have Kids In Brutally Honest Interview
"The older we get the more happy and reaffirmed we are with our choice to not have kids," he said.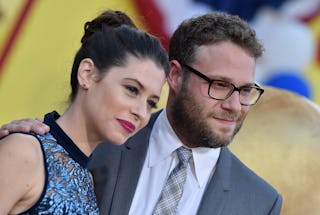 Axelle/Bauer-Griffin/FilmMagic/Getty Images
More and more celebrities are coming out to say that they are child-free and proud. Chelsea Handler, Oprah, Portia and Ellen — all these celebs have spoken openly about their decisions not to expand their families with kids.
Seth Rogen, 40, opened up recently on the Diary of a CEO podcast this week where he admitted that his successful career and ability to work consistently could be attributed to the fact that he and his wife — actor and comedian Lauren Miller — decided to not have kids. The couple have been married since 2011.
"There's a whole huge thing I'm not doing, which is raising children," he said.
When asked if having children would make him happier, Rogen said, "I don't think it would."
"I've been around, obviously, a lot of children. I'm not ignorant to what it's like. Everyone I know has kids. I'm 40. I know. Some of my friends have had kids for decades. Some people want kids, some people don't want kids."
He then suggested that a lot of people have kids before even considering whether or not it's actually right for them.
"I mean, a lot of people have kids before they even think about it, from what I've seen honestly," he said. "You just are told, you go through life, you get married, you have kids — it's what happens."
The Knocked Up actor explained that he and Miller never wanted children, contributing their child-free life to all the success they've seen personally and professionally.
"Honestly, the older we get, the more happy and reaffirmed we are with our choice to not have kids," he said. "Now, more than anything, the conversation is like, 'Honestly, thank god we don't have children,'" he went on. "We get to do whatever we want."
"We are in the prime of our lives," Rogen pointed out.
"We are smarter than we've ever been. We understand ourselves more than we ever have. We have the capacity to achieve a level of work and a level of communication and care for one another, and a lifestyle we can live with one another that we've never been able to live before. And we can just do that, and we don't have to raise a child — which the world does not need right now."
In a 2021 interview with Howard Stern, Rogen reiterated how he felt about the choice to not have kids, doubling down on the idea that if kids were in the picture, he wouldn't be able to pursue every project that he wanted to be a part of.
"I wouldn't be able to do all this work that I like," Rogen said on an episode of The Howard Stern Show. "People are always like — it's something I think I was uncomfortable answering this before — but they were like, 'How do you do so much?''The answer is I don't have kids. ... I have nothing else to do."