Tori Spelling Reveals Her Daughter Has A Rare Migraine Condition
The actor and mother of five shared that her 14-year-old daughter suffers from hemiplegic migraines and has been in and out of the ER for weeks.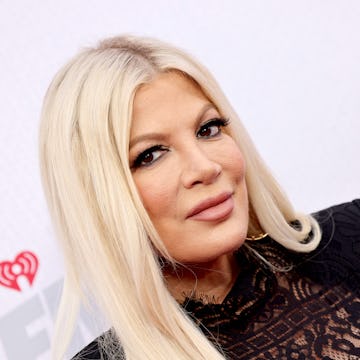 David Livingston/FilmMagic/Getty Images
Tori Spelling's 14-year-old daughter, Stella, has visited the emergency room a couple times since the beginning of 2023, and now it seems like the 90210 actor's daughter finally has been diagnosed with a hemiplegic migraine.
On Jan. 19, the actor appeared on SiriusXM's Jeff Lewis Live and gave an update on Stella's condition, saying her daughter is "not great" at the moment.
"She went to the ER, now twice," Spelling said. "She was diagnosed with a hemiplegic migraine."
According to the American Migraine Foundation, hemiplegic migraine is a "rare form of migraine where people experience weakness on one side of their body (hemiplegia) along with headache and other symptoms that are often the same as seen in migraine. The weakness is a form of migraine aura and occurs with other typical migraine aura signs like changes in vision, speech or sensation."
"One side of you goes numb. It almost kind of mimics what a stroke would be," Spelling explained. "Her left arm went completely numb. She couldn't lift it, then half of her throat, then her mouth, so it looked like she had had a stroke."
Spelling, who also shares daughter Hattie, 11, and sons Beau, 5, Finn, 10, and Liam, 15, with husban Dean McDermott, explained that Stella's condition is hereditary, as Spelling has also dealt with migraines throughout her life — and the condition runs on her husband's side of the family.
"I get migraines, but (hemiplegic migraine) actually doesn't run in my family," Spelling noted on the talk show. "I found out it runs in Dean's family."
A week earlier, Spelling had updated fans on her daughter's condition, first sharing the prognosis.
"She is home and feeling much better. At the ER, she was diagnosed with a Hemiplegic Migraine," Spelling wrote on her Instagram story on Friday, Jan. 13, along with a photo of Stella snuggling with the family dog. "It's a condition that affects one side of the body. Signs of a hemiplegic migraine attack are similar to what would be presented in a stroke that typically includes sudden severe headache on one side of the brain, weakness and numbness on one half of the body."
"As a migraine sufferer my entire life, I had no idea about this. grateful to everyone at the ER. They were amazing and took great loving care of her," Spelling wrote at the time.
Here's hoping Stella gets the treatment she needs in order to work through this rare condition, which has a reported prevalence of 0.01%. Typically, the average onset of hemiplegic migraine is between the ages of 12 and 17 years old, according to a paper published in the National Library of Medicine.