Tori Spelling Shares Warning About "Extreme Mold" After Her Kids Were Sick For Months
Spelling said her kids were on a "spiral of sickness."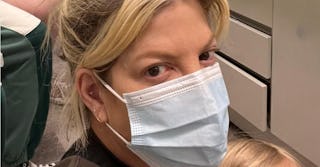 Instagram / Tori Spelling
Tori Spelling shared a shocking update concerning the health issues going on with her kids, saying she now knows it's due to "extreme mold" in their home.
Spelling — who shares five children, ranging from 6 to around 16 years old, with her husband Dean McDermott — shared photos on Instagram with at least four of her children at an urgent care clinic.
"Let's talk about MOLD…" Spelling began in the post. "Here we are again at Urgent Care. We've all been on this continual spiral of sickness for months. Sick. Get better. To get sick again. Used to think… well that's what happens when you have young kids in school. They just continually bring sicknesses home."
However, she wrote that when her kids were at home more than at school, she knew something more was going on and had "to reassess what was going on."
Spelling wrote that her children experienced a myriad of symptoms including skin rashes, extreme fatigue, dizziness, fevers and respiratory infections.
Once a professional mold inspection company came to the California house, which they were renting, and found "extreme mold", they immediately made plans to to vacate the premises.
The reality TV star said her 10-year-old son Finn and 6-year-old Beau were "so sick," sleeping all day and saying they were feeling dizzy when they stood. "We now know that when the house was labeled a health hazard and not live able that wording was FACT," she wrote.
"It's hard to just uproot a huge family especially in midst of all feeling so sick and in bed," she wrote. "But, we now will vacate the home asap."
The Beverly Hills, 90210 star previously opened up about her children's health issues.
In January 2022, she revealed her daughter, Stella, was hospitalized and "diagnosed with a hemiplegic migraine" — a rare type of migraine that primarily impacts one side of the body.
A couple weeks later, she posted that two more of her children went to the hospital. That time, she revealed she took her son, Liam, to get checked after a "viral infection triggered severe migraine and neck pain."
The deep helplessness and anxiety that can come from a sick child is unlike any other. Let alone when the sickness cannot be pinpointed. Hopefully, now, Spelling can have peace of mind.
According to the Centers for Disease Control and Prevention (CDC), mold can cause health effects ranging from skin rashes and burning eyes to coughing and sneezing and a sore throat.
The effects of mold may be more severe, according to the CDC, for people with asthma and those with mold allergies, as well as people who are immune-compromised and who have chronic lung disease.
Mold can enter a home through everything from heating and air conditioning systems to open doors and windows, vents, clothing, shoes and pets, according to the CDC.
If you are suspicious of mold in your home, the CDC notes that mold shows up as spots and can be different colors. It also has a musty smell.
Unfortunately, mold may go unseen, in which case a professional service would need to find the source.
Soap and water, a mold-removing product or a bleach solution can help remove existing and growing mold, and once found, should be done so immediately.