Travis Kelce Dating Taylor Swift Is Showing The Younger Generation How To Show Up
Especially after his trip to see her show this weekend!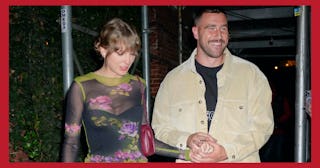 Gotham/GC Images/Getty Images
If you happened to scroll social media this weekend, you surely came across the recent developments in the love story that is happening between superstar extraordinaire Taylor Swift and two-time Superbowl champion Travis Kelce.
On Friday, Kelce flew down to Buenos Aires, Argentina, to watch Swift perform her Eras Tour, and Swift pulled out all the stops for her rumored boyfriend's guest appearance.
First, she chose to sing her Reputation hit "End Game" during the acoustic set (a song many have turned into the couple's anthem), then she changed the lyrics of "Karma" to "Karma is that guy on the Chiefs / Coming straight home to me."
However, the most romantic moment of the evening came after the show had ended. Fans captured video footage of Swift waving to the audience as she made her exit from stadium until she spotted Kelce waiting in the wings. She ran straight into his arms for a kiss. *Cue the entire world freaking the f*ck out.*
Since this tour started, the romantic life of Swift has been a roller coaster — starting with the end of her 7-year-long relationship with Joe Alwyn, to that weird thing with Matty Healy from The 1975. Now, fans are just so happy that she seems happy!
As one X user tweeted, "She started this tour with a breakup and she's now on top of the world, happy in love and feeling comfortable being open about her happiness."
Other words of affirmation came from moms who were thankful to see a role model like Swift publicly show how a healthy relationship can work for every single generation of women.
"I don't care if this sounds middle-aged mom-ish but Taylor Swift is teaching generations of women — from Z to X — what it looks like to have a partner who shows up for you, and Travis Kelce is demonstrating how to be that partner. I suspect this is something she's now also teaching herself, which is what makes it even better. 😍," one Threads user wrote.
She continued, "PS — I dated so many men who showed up in half measures. I can't believe how demonstrably clear this is now- the ones who gave you 65% and claimed that it was 100%. It's a complete mindf*ck, and this is at least part of the reason so many women are championing T & T."
One user replied to that sentiment and said, "I'm a golden grandma and I'm still looking for a man that looks at me the way Travis looks at Taylor."
And it's true! Clip after clip will show a T+T doubter that the beginnings of this romance are just so sweet, with Kelce really working to get Swift's attention.
Back in July, Kelce attended one of Swift's Eras Tour concerts and said that he tried to meet her before or after the show, but he found out that she isn't doing meet-and-greets for this tour.
"I was a little butthurt I didn't get to hand her one of the bracelets I made for her," Kelce said in a episode of the New Heights podcast that he co-hosts with his brother, all-pro Philadelphia Eagles center Jason Kelce.
Jason immediately asked his younger brother for an explanation.
"If you're up on Taylor Swift concerts, there are friendship bracelets handed out. I received a bunch of them, but I wanted to give Taylor Swift one with my number on it," Kelce said.
Jason asked if Travis was referring to 87, his uniform number with the Chiefs, or his phone number.
"You know which one," Travis responded slyly.
The rest, my friends, is history!
Parents and moms also weighed in on the budding romance between Swift and Kelce, sharing that they don't mind all the publicity or TikTok videos being fed to them (and their kids) constantly.
One mom even feels thankful that Kelce's wooing has been so popular in mainstream media showing that he is the walking definition of, "if he wanted to, he would."
"As the mom of two Gen Z sons, I have always been delighted with the extent to which their female friends put up with a metric ton less shit from boys than their Gen X mothers did at their age. We all see you, Taylor. We see you," she wrote on Threads.
While the idea of parasocial relationships can be a bit... weird, it seems like the entire world can agree that there is something about Taylor Swift and Travis Kelce that just makes us all giddy. And honestly, sometimes, it's just nice to see something happy and lovely amid the absolute sh*tshow that is every single news cycle since, well, forever.
"I love so many things about what is happening with Taylor Swift and all of the Swifties," another Threads user wrote. "First, after seeing a lot of video of her showing up to support and cheer for him, now we see video of him showing up to support and cheer for HER. Love that. More of this in society, please."
"Second, we are all exposed to so much horrible news, hour after hour, day after day, something that is fun and pure like this is just great for the soul. Third, I still love how she absolutely wrecked Scooter Braun."
Now, that's just an added bonus!