Watch Padma Lakshmi's Witty Response To Her Daughter Censoring Her Cleavage
The "Top Chef" host reminded her 12-year-old just what breasts are for.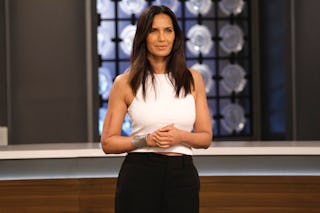 Bravo/NBCUniversal/Getty Images
Leave it to Padma Lakshmi to drop truths whenever she can. The Top Chef and Taste the Nation host, author, and activist had the best response to her daughter Krishna when the 12-year-old "censored" her cleavage during a cooking demonstration.
In a video posted to Instagram, Krishna puts her hand in front of her mom's breasts. "What are you doing?" Lakshmi, 52, asks her daughter, who replies that she's "censoring."
"Censoring my boobs? You ate off those boobs for a year and a half," Lakshmi quips to Krishna, whom she adoringly calls "Littlehands."
The middle schooler is, understandably, taken aback. Touché, mama!
In the video, Lakshmi inserts the rolling eyes emoji before writing, "got her."
"Littlehands: 'cover your boobs' Also Littlehands: *zooms in on boobs*," Lakshmi captioned the post.
Most followers celebrated the former model for being honest about breastfeeding and motherhood. Others took issue with her wearing a revealing bra top while cooking with her daughter.
"As a mom of 4 daughters, there's a time and a place and when it starts making our daughters uncomfortable because we are being objectified, time to take notice," one Instagram user wrote.
In response, Lakshmi said, "First if all it's a JOKE. And my daughter isn't uncomfortable with me or my boobs or my posts, nor does she read these comments unless I show her because she isn't on social media. It's really not that serious folks."
Lakshmi, an Indian-born American, is a staunch supporter of women's and immigrant rights and has been open about her relationship with her daughter, who turns 13 next month. She makes it a point to discuss topics such as womanhood, identity, and racism with Krishna to expose her to the harsh realities of our world.
"She's a biracial child, she's also someone who's traveled extensively with me, not only domestically but internationally," Lakshmi told Page Six in 2020. "So she's very aware of these issues of inequality, also because of my work with the ACLU, I've been able to take her to rallies and things like that."
Lakshmi added that she takes small steps when introducing these discussions, and is hopeful her daughter will understand and appreciate them as she gets older.
"I try to expose her to as much in an age appropriate way, it's not always a perfect science," Lakshmi explained. "I think it's better to do it with children in small doses all through their lives than, 'OK we have to hurry and bring them up to speed.'"
From her social media presence alone, it appears Lakshmi has this whole mom thing fully under control.