'Sex And The City' Celeb Superfans Weigh In On Which Man Was The Worst
"I can't. I'm sorry. Don't hate me."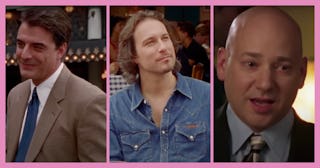 HBO
Iconic HBO series Sex And The City celebrated its 25 year anniversary this week with tons of fans and former cast members paying tribute to the series that changed the landscape of cable television.
One fun activity that many are participating in, including stars? Trying to figure out which male character on the iconic show was the worst.
But first, the stars of the show itself posted their own looks back.
Sex And The City alums Sarah Jessica Parker, Kristin Davis, and Cynthia Nixon all posted on social media, writing heartwarming messages of gratitude and nostalgia to the HBO show.
Davis, who played uptight and caring Charlotte York, commemorated the day with a montage of clips from the show alongside a heartfelt message to fans.
"I consider myself the luckiest person in the world to be a part of this story that connects so many of us together. It has and continues to be a JOY!" she wrote. "Thank you to all of you who have come along for the ride. We love you 💗 #satc25."
Nixon, who portrayed the role of working mom and headstrong Miranda Hobbes, posted a Season 1 shot of Miranda, alongside a recent photo of her on set of the revival series, And Just Like That....
Parker also posted on her social media to pay tribute to 25 years of SATC by posting a photograph of the iconic gold "Carrie" necklace, writing, "It's our silver anniversary but the memories will always be gold. X, SJ"
Several other entertainment outlets got in on the nostalgia, writing tributes to the comedy/drama that premiered in 1998.
Vanity Fair got in on the fun and posted a piece asking the deep question: "Who Was the Worst Man on Sex and the City?"
Unsurprisingly, the question had the internet debating if Big, Aidan, Berger or several other men who appeared on the show were "the worst."
The comments section on the Vanity Fair Instagram post was flooded with opinions about who truly was the biggest f**k boy in Sex And The City history.
The Office alum and author Mindy Kaling weighed in with her opinion.
"Big!!!!" she responded, calling him the "ultimate time wasting vill."
"And then he kicked the bucket. Boy bye."
Katie Couric gave a vote to Jack Berger — Carrie's Season 5 boyfriend, played by Ron Livingston, who broke up with her on a Post-It note, declaring him as a "cowardly suckwad."
Couric also added that she "hated" Carrie's Season 6 boyfriend, Alexander Petrovsky, could do away with Aidan Shaw, played by John Corbett, because he was too "crunchy," and gave Big a thumbs-up emoji.
Singer Ellie Goulding and One Tree Hill star Sophia Bush sided with Couric's assessment that Berger was the worst while Bush also mentioned that Carrie's BFF, Stanford Blatch, was the "greatest."
Some former Sex And The City actors — who played some of these eye-roll worthy men — also chimed in on the discussion with their opinions.
Justin Theroux — who appeared on the show twice as two different characters — voted for his first character, Jared, as the worst. Jared appeared briefly on the series but left a smarmy mark.
Kyle MacLachlan, who played Charlotte's ever-complicated first husband, quickly came to his own character's defense.
"Alrighty, I'll admit. I did give her the cardboard baby," he began, referencing the totally inappropriate gift he gave Charlotte in Season 4 while they were struggling with infertility. "But I think I more than made up for it by leaving her that spectacular apt…and Schooner…for a brief moment."
Though the show premiered 25 years ago, fans of the show have been getting a taste of what they've been missing with the revival show And Just Like That... which stars Parker, Nixon, and Davis.
Fans were left in a tizzy when the recent news dropped that Kim Cattrall, who played the infamous and promiscuous Samantha Jones will return for a "no contact" cameo in the upcoming season.
And Just Like That... can be streamed in full on Max ahead of AJLT's season 2 return on June 22.