Equifax Posts Instructions On How To Get Money Back From Their Data Breach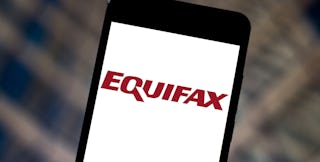 Rafael Henrique via Getty
The process is a simple one and you might as well get something
If you don't remember much about the 2017 Equifax cybersecurity breach, consider yourself lucky. For more than 147 million people whose credit card numbers, Social Security numbers, and other personal information were stolen, the sting isn't remotely over.
As part of a settlement agreement with the Federal Trade Commission (some $700 million Equifax is paying to settle federal and state investigations), people who were impacted are being offered some reimbursement: Ten years of free credit monitoring, $125, or possibly as much as $20,000 (if you can prove your identity was stolen).
Wait, they are paying out $700 million and consumers only get a measly $125 for our troubles? The answer, unfortunately, is yes. It may not seem like enough money to bother with online forms and putting in more of your personal information in to a system that just had the largest breach in history (psst, they already have it anyway), but as Slate's By Josephine Wolff puts it, "Consider it a part of your civic duty: driving up the costs of data breaches for corporations so they have an incentive to invest more heavily in security."
People are understandably mixed in their reactions to the news:
Those who are eligible to file a claim and want some "free" cash out of the deal can head on over to www.equifaxbreachsettlement.com to get started. You can check whether your information was affected by the breach on this page and file the claim from there. The forms are easy and take just a few minutes to complete. According to their site, claimants should be aware that "none of these benefits will be distributed or available until the settlement is finally approved by the Court," so be aware you won't receive the money right away.
Only those who can show proof that they already have credit monitoring services — and will continue to have those services for the next six months — will be eligible to claim a $125 payment in the form of a check or pre-paid card.
But that $125 payout is just the amount you can get without having to put in a ton of work explaining how you may have been impacted by other losses such as the time you spent dealing with the horror that is having your information stolen. If you have paperwork, etc. you can also receive reimbursement at the rate of $25 per hour for your troubles. Again, it may not seem like a lot, but at least there's some recognition of lost time people spent trying to track down information.
And here's a really important part to remember: If you do nothing, you automatically waive your right to take any legal action against the company in the future.
Claimants are also eligible for at least seven years of free assisted identity restoration services to help remedy any fraudulent activity on their accounts (because once your information is out there, it's out there).
Claims can be filed online or through the mail until Jan. 22, 2020.
This article was originally published on