HGTV's Erin Napier Drops Truth Bomb About Formula Feeding
by Erica Gerald Mason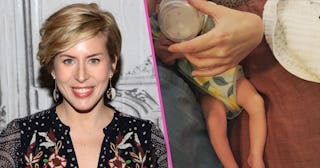 Manny Carabel/Getty and Erin Napier/Instagram
The Home Town star and her partner, Ben Napier, recently welcomed a daughter, Mae
Mama shaming is real and it has to stop. The conversation surrounding pregnancy, birth, delivery, and those first few precious months can become an exercise in caregivers shouting about who has the biggest parenting peen. HGTV's Erin Napier wants us all to put away the measuring tape and concentrate on what's important: the health and well-being of bebe and mama. On Thursday, Erin posted a photo of herself bottle-feeding her newborn babe, Mae, whom she parents with her husband and Home Town costar Ben Napier.
"Just a little encouragement for you mamas who weren't able to breastfeed, like me," Napier captioned the post. "Don't let anyone make you feel less than or belittled because of it."
Napier shared that Mae's big sister, 3-year-old Helen, was also bottle-fed.
"Helen was a formula baby and has no allergies, has always been a healthy weight, no big sicknesses, slept through the night by 6 weeks, smart as a whip, and is just as in love with and attached to her mama as her breastfed friends are to theirs," Napier continued. "Formula is our friend at this house! Just watch as these little matchstick legs get chunky and strong."
Little Mae seems to be doing just fine, thank you very much.
Napier's post about the openness about her parenting journey went over well with other parents. Several took to the comment section to express thanks to Napier for sharing a message that often gets lost in the conversation about feeding newborns.
"On behalf of all is adoptive mamas who had no choice and were shamed. Thank you for this," one person wrote."I've got 3 formula kids and they're fine." Another wryly commented, "One of them screams like a freakin pterodactyl but I'm sure it's unrelated."
Another commenter made sure to mention parents who specifically chose formula over breastmilk. "And if you simply choose not to, that's absolutely fine as well! People need to take care of their own and stay out of the private business of others!"
One mother, in particular, felt seen by Napier's comments. "This made me absolutely lose it this morning. I had my second baby two weeks ago and he hasn't been interested in breastfeeding. My milk has hardly come in so I can't pump much for him. It's a total difference from his sister and it's been so hard for me. He's getting bigger and stronger because of formula and while I wish he could breastfeed I have zero regrets about making sure he's a fed boy. Thank you for normalizing formula and not being able to breastfeed. I felt seen this morning. Thank you."
Last week, Napier shared a fun story about baby Mae's name appearing on TV before she was even born.
"An Easter egg from our friend @sullivangrams: earlier this year on @nbcthisisus, Kate and Toby were at the hospital awaiting their baby," she captioned the Instagram post. "Our friend Chris, who plays Toby, was writing down ideas for the baby's middle name and he snuck Mae (and her middle name!) in there to see if we would spot it when we watched the episode."