Erotica Is Super Hot, So Here Are 17 Books To Get Your Hands On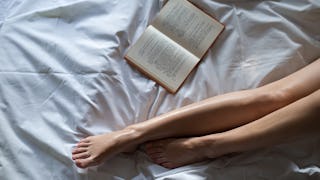 Sjale / Getty
Why is erotica so hot? In researching for this article, my intent was to answer this question scientifically. What I learned from various articles is that women tend to enjoy reading erotica the way men tend to prefer the visual stimulation and instant orgasms gratification of video pornography.
I learned that almost as many women read erotica as men watch porn. Differences between the male and female brain lead to an evolutionary drive for men to spread their seed far and wide practically indiscriminately (and emotions can suck it) while women tend to be more discerning because we kind of have to be (single parenting is hard, yo). So, according to these studies, when it comes to arousal, men want tits, ass, and thrusting, and women want a story to mull over.
And that's why we like erotica.
Honestly, these studies read like women-are-from-Mars-and-men-are-from-Venus hoodoo, and they grate on my nerves. I'm a woman, and I watch and enjoy video pornography, and so do many of my female friends. And, as the author of a few steamy books myself, I know men are definitely reading and listening to erotica. And what about those who identify outside the gender binary? They're not represented in these studies.
So I choose to forego the stereotypical analysis of male/female brains and will instead go with: Erotica is one super fun way to rev our engines.
When it comes to erotica, readers have all kinds of tastes, from enjoying a slow-building romance that eventually culminates in sweet lovey sex, to straight hardcore kink right out of the box (so to speak) with little romance to be had.
Some of these tastes are adaptive and ingrained, some are the result of our current societal ideas on sexuality, and some are ways to deal with past events. Rape fantasy, for example, can be empowering for someone who wants to take back control after experiencing a rape. Reading about rape fantasy absolutely does not mean the reader enjoyed being raped or wishes to be raped again. So if you've ever bashed this type of erotica, do me a favor and quit that shit. Fantasy should never be seen as an indication of a person's desire for what they wish to happen in real life. Brains are complicated like that.
And so, with all this in mind, here's a delicious and diverse compilation of must-read erotica to wet — I mean, whet — your sexual appetite.
1. The Sleeping Beauty Trilogy by A. N. Roquelaure (a.k.a. Anne Rice, yes, that Anne Rice)
A classic. Nothing is off-limits in this series, and Anne Rice is a brilliant writer so the prose is as beautiful as the scenes are hot. You need all three. The first one had a little too much whipping and spanking for my taste, but I have a couple of scenes marked for quick reference in book 3. Wink wink.
USA Today says, "What The Da Vinci Code did for the religious thriller, the Anita Blake series has done for the vampire novel." Reviews indicate it's a better-written Twilight for adults.
I'd be an idiot not to mention my own books, right? My bisexual romance duet has earned a slew of 5-star reviews and many a late-night message from straight women suddenly questioning their sexuality (you're welcome!). Red Water is a steamy dark M/F romance that turns the alpha male trope on its head.
A silly and steamy M/F romance about a woman whose new apartment shares a bedroom wall with her hot and very sexually active neighbor.
5. Women by Chloe Caldwell
"A novella about falling in love with a woman, about loving women, about being a woman."
For otherworldly romance. If you've ever fantasized about getting frisky with a hella hot humanoid alpha from a superior race. I mean.
7. The Rush Series by Vi Keeland and Penelope Ward
A steamy M/F bad boy romance for readers who like a slow build.
A classic collection of erotic short stories from the master of sumptuous, literary erotic storytelling.
When I crowdsourced, this series was recommended by multiple people. Ahem.
10. Outlander by Diana Gabaldon
The story that started it all. (I had no idea this series was considered erotica, BTW, until I researched. Guess I have to read it now.)
One of the most-loved alpha romance series with over 6,700 Amazon reviews.
Said to be "a stunning literary portrayal of female desire and sexuality," I'd never heard of this F/F romance before I researched this article. Bought it.
A new adult M/F romance about fighting back and falling in love.
A contemporary M/F sports romance with a slow burn.
From the author of the book Addicted, which was made into a major motion picture, this New York Times bestselling Queen of Erotica delivers a story about a testy love affair between a woman who's had enough and a man who's had it all.
M/M erotica that has topped the charts in Vampire Horror, LGBT Fantasy, Vampire Paranormal Suspense.
17. Vox by Nicholson Baker
An erotic classic told from the perspective of a man and woman chatting on a party line. A study in erotic conversation.
Editors may receive samples and/or a share from purchases made via links on this page. All opinions are our own.
SaveSave
SaveSave
SaveSave
SaveSave
SaveSave
SaveSave
SaveSave
SaveSave
SaveSave
SaveSave
SaveSave
This article was originally published on