Woman Escorted Off Flight Over A Crop Top Accuses Airline Of Fatphobia
by Kristina Johnson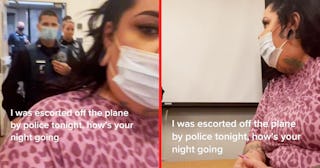 fattrophywife/TikTok
A TikToker documented a humiliating ordeal onboard an Alaska Airlines flight
Ray Lin Howard was escorted off her flight Seattle to Fairbanks, Alaska earlier this month. Not because she was being rowdy, or putting anyone in danger, or threatening anyone — but because of how she was dressed. Howard says the conflict started over her sports bra/crop top combo, but she believes the larger issue was fatphobia.
"This is what I was wearing when I was told that my outfit is inappropriate," Howard said in a TikTok video taken on board the plane. She's wearing bike shorts, a crop top (and a mask!), and it's seriously hard to imagine what could possibly offend anyone about it.
At some during the flight, Howard told Buzzfeed that she removed the crop top because she wasn't feeling well, and was seated in her shorts and a sports bra. A flight attendant approached and asked her to put her shirt back on, which Howard did. But then she was approached a second time and told that her stomach being visible below the crop top was an issue.
The flight attendant claimed that Howard was in violation of the airline's dress code — though you'll note that exposed midriffs are mentioned exactly nowhere on the Alaska Airline's website: "The dress code on both Alaska and Horizon is casual, and the requirement is simply a neat and well-groomed appearance. Clothing that is soiled or tattered and bare feet are never acceptable. You are expected to use good judgment, but customer service agents will have the final authority to refuse travel for inappropriate attire or appearance."
Howard ended up being escorted off the flight — with her probably terrified 6-year-old child looking on. She posted another video from the room where she was questioned by what appears to be airport security. An officer can be heard saying that they're just trying to get to the bottom of things, and that obviously no crime had occurred.
But Howard thinks — and a lot of people agree with her — that the whole situation wasn't about the dress code at all, but about her body size. "I think they didn't like seeing a fat person dressed the way I am — I was kind of slut shamed and fat shamed at the same time," she told Buzzdfeed. "It's crazy to try to tell people that midriffs are against the dress code when that isn't true."
Howard wrote that she felt harassed by the flight attendant's fixation with her stomach showing, and the whole ordeal obviously must have been scary and humiliating.
Alaska Airlines has since apologized and refunded Howard for the flights. At first, she says they offered her a discount code to use on future tickets — which, what? Like she's going to be eager to put herself in that position again? In a follow-up, Howard said Alaska backtracked and added free tickets to the offer. She told Buzzfeed that she felt it was more of a "slap in the face" than a genuine apology.
https://www.tiktok.com/@fattrophywife/video/7007546449198206214?is_from_webapp=v1
"We're in contact with the guest. We're committed to finding out what happened and taking the appropriate actions. It's our goal to provide caring service to all of our guests. When we don't live up to that goal, we do everything we can to make it right," the airline said in a statement to Buzzfeed.
Howard tells Scary Mommy that the airline is being "very careful" with what they're saying to her as they try to work things out. "They are aware I wasn't approached before being mid-air and seem to agree my pink top was in fact appropriate attire, though they're being very careful with what they say," she shares.
If Alaska is genuinely interested in doing everything they can to make it right, they should probably start with not policing people's wardrobe choices or more importantly, their bodies. Because as plenty of people were quick to point out in Howard's comments, a smaller person wearing the exact same outfit likely wouldn't have raised any eyebrows, and certainly wouldn't have caused anyone to act like their eyeballs were being scalded.
No one wants to go viral for something as ridiculous and embarrassing as what Howard went through, but hopefully, the situation leads the airline — and others — to rethink how they treat their plus-size passengers.
This article was originally published on