'Schitt's Creek' Prayer Candles Are What We All Need Right Now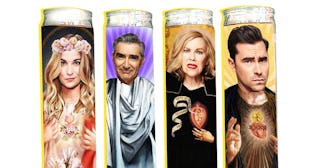 BlasphemeBout/Etsy
Fans of 'Schitt's Creek' will love these candles during these trying times
We're all looking for ways to stay calm and sane during these unprecedented times — especially now that most of our kids (and partners) are all home together. One way we can do this is to light up — and by "light up" I'm obviously referring to Schitt's Creek prayer candles.
Several Etsy shop owners are selling Schitt's Creek prayer candles and there's honestly no one I'd rather pray to than David. Shop owner BlasphemeBout is selling a set of four that includes Moira Rose, Johnny Rose, David Rose, and Alexis Rose and they are as glorious as they are necessary. These puppies burn for 80 hours which should get us through the first half of this week before we have to order another set. The set sells for $40 plus shipping and handling.
Another shop, Twoballztees, is selling another four-candle set that is equally as adorable and pays homage to "Saints Moira, Johnny, David and Alexis." These eight-inch candles sell for $40 plus shipping and handling.
If you've not yet watched Schitt's Creek, well, you'll have some time to do so now. The cast of Eugene Levy, Dan Levy, Catherine O'Hara, and Annie Murphy (as well as many amazing guest stars) is unbeatable. It's the story of a wealthy couple (Levy and O'Hara) who suddenly find themselves completely broke with the exception of a small town they own called Schitt's Creek. And so they move, along with their two very spoiled kids (Dan Levy and Murphy) to make a new life together. It's equal parts hilarious and heartwarming and a must-watch for all.
One of the most beloved characters, David, also has several solo options if you can't shell out $40. It's a "boyfriend sweater" scented candle that "smells like a deeply sarcastic remark paired perfectly with a melodramatic facial expression." The candle says, "I'm trying very hard not to connect with people right now!" which couldn't be more spot on.
There are some adorable options from the CandECraftCo shop that feature some of our favorite Schitt's Creek quotes like, "Ew David," "Love that journey for me," and the Rose Apothecary brand that smells like Lavender Vanilla (a "very soft and powdery herbal lavender sweetened with vanilla and a hint of musk") which sounds as fancy as the Rose family.
Finally, behold the candle we'll likely want to give to each member of our family by the end of all this, the "Eat Glass" candle being sold by shop owner HighFunctoningMess for $12.99 plus shipping.
We can all use space to relax and unwind and thanks to these shops, our spaces will be filled with sage, lavender, vanilla, and musk. Best wishes. Warmest regards. We're all in this together.