Photos Capture How Freaking Hot It Is In Europe Right Now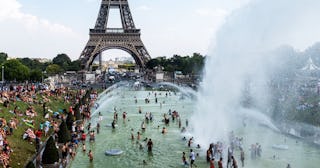 Samuel Boivin/NurPhoto/Getty
You can see and feel the real effects of climate change all across Europe right now
Western Europe is currently battling its second blistering heatwave of the summer, and photos show just how intensely hot it is in the region right now.
Radar weather maps of the area show how widespread and intense the heat is. Temperatures have been breaking records from the U.K. all the way to Austria.
Here's a map that shows some of the record-breaking temperatures that are being reached. For reference, 40 degrees Celsius is equal to 107 degrees Fahrenheit. The hottest temperature shown on the map, 42.6 degrees Celsius in both Paris and northern Germany, is equal to almost 109 degrees Fahrenheit.
On social media, people have been sharing photos of the effects of the heatwave, and it looks absolutely miserable.
It's so hot that candles are melting just from being left out.
The soles are melting off people's shoes.
People are setting up pools on sidewalks just to get some relief.
One of the scariest effects of the heatwave is that train tracks are literally combusting from the intensity of the heat.
Since Europe relies much more heavily on rail travel than we do in the U.S., this means thousands of travelers are getting stranded in hot train stations as routes are delayed or canceled.
People are flocking to wherever they might be able to escape the heat, which means beaches in Germany are completely packed with people.
In landlocked cities, like Paris, people are piling into public fountains just to cool off.
Even the Trodacero fountain at the Eiffel Tower has become a public swimming pool in this intense heat.
While temperatures this intense would be dangerous anywhere in the world, they can be particularly brutal in Europe, where many of the cities' extremely old buildings (especially residential ones) aren't retrofitted to have air conditioning. Historically, this hasn't been too much of an issue, because it's typically been rare for Western Europe to see such high temperatures. In the last few summers, though, a heatwave like this has happened at least once yearly. This is Europe's second super intense heatwave so far this summer. The effects of climate change are clear here, and unlikely to let up — this might just be a new summer reality for European countries.
Climate scientists have warned that we have only a handful of years left to act before climate change causes irreparable harm to the planet. As we face disturbing things like these images and the frighteningly regular and increasing occurrence of climate disasters, we have to realize that the time to act is now.
This article was originally published on