Even If You Aren't A Cat Person, You Are Going To LOVE These Adventure Cats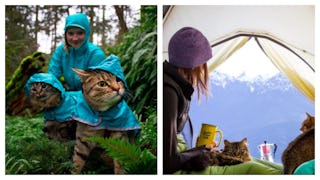 Instagram Bolt and Keel
If you thought cats were boring, lazy, and only liked to lounge at home in the sun and get an occasional scratch behind the ears, then you were wrong. Because adventure cats are a thing, and they take the idea that cats lead a mundane life and turn it on its head.
Bolt and Keel, a brother and sister cat duo, have had more adventures in their nine lives than I've had in my 42 years on this planet, and I'm a little jealous. You won't find these two basking in the sun, and rubbing up against legs for entertainment, nope. These two live for hikes, canoe rides, and mountain climbs.
Yes, you read that right. They even wear the appropriate hiking gear. There isn't anything they are afraid to do — they are living their best life.
With almost 100k Instagram followers, these two fearless felines have produced quite an audience and leave smiles in their wake. The two were found abandoned behind a garbage bin, and the couple who found them planned on dropping them off at the local animal shelter, only to find it closed. They'd planned a two-day hiking/camping trip for the following day and decided to take the two rescue cats along with them. That was the start of a beautiful new life for the pair and they've been adventuring together ever since.
Snow does not bother these two in the least. Who needs a scratching post when you are living a life like this?
These two have no problem hitching a ride from a friend — it looks like a great way to travel.
And if a fellow four-legged friend isn't available to take them where they want to go, a human neck will do.
Who says cats can't stand the water? This photo was taken of Keel just two days after the cats were rescued. It looks like a match made in heaven to me.
This picture makes me want to rush out right now to my local shelter and adopt two matching cats, then knit them some matching sweaters and take them on adventures. If only. I can't handle the cuteness. If this doesn't make you smile, then we can't be friends.
Bolt and Keel have a book coming out on October 24, entitled Bolt and Keel: The Wild Adventures of Two Rescued Cats. It documents all of their adventures through British Columbia. Whether you are a cat lover, an adventure lover, or none of the above, this book is going to make your day. How could it not?
Their next goal? To be on the Ellen show. I don't know about you, but I think these two will look great on television. I just hope they wear matching outfits.