Why Is Everyone Talking About 'Squid Game'?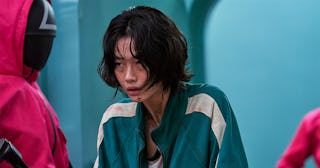 Netflix
Since my home is full of teenagers, as soon as a thriller comes out they are all over it. I tend to stick to my rom-coms and my Hallmark Channel because I have enough disturbances in my life, but when my kids ask to watch a show with me, I obliged.
First, it's a rarity that they want to do anything with me. I also like to keep somewhat engaged in what they are feasting their eyes on.
By the time we got around to watching Squid Game (which was literally two days ago) according to them, it was already old news and I better settle in and relax because they were watching it all the way through. (It was the second viewing for the daughter, BTW).
It is literally one of Netflix's biggest shows right now and is trending to be the biggest ever.
On a side note: I must warn you, my daughter told me the Korean version (with the subtitles) is so much better and you miss a lot with the translated English version.
If you aren't a fan of subtitles (I am not), I have to tell you she was right. I tried to watch the English version and it wasn't the same. Not to mention within about a half hour I wasn't even aware that I was reading subtitles because it sucks you in that much.
The Korean drama, which was dismissed for almost a decade because it was thought to be "too unrealistic and grotesque," is about money, greed, games, inequality, and death.
Without giving too much away, adults are "recruited" and vetted based on their past financial mistakes, or their economic standing, by the rich. In other words, there are desperate people out there who need money and are propositioned by random strangers who tell them all they have to do is play a simple game. If they win, they get a large sum of money (about $40 million) and all their problems will be solved.
The rich are funding the games — and even watching those who lose die.
In my opinion, one of the reasons this show is getting so much coverage is because it's based on children's games. In fact, my son said something along the lines of it being about broke adults who play games like Red Light-Green Light and Tug Of War. "They can either die, or win lots of money," he told me.
Because of this, TikTok videos playing out children's games have gone viral and everyone wants a "Squid Game" costume this year for Halloween.
I can admit this isn't my type of show — yet I was still invested. There is something about sitting back and watching what desperate adults will do for money that becomes addictive. A lot of the characters who play the game have very anxious personalities, which puts me on the edge of my seat since I always seem to absorb my surroundings. I literally have to tell myself to unclench my jaw because I am not playing the game. I am a spectator watching a fictional show so I need to chill the fuck out.
If this is you, maybe take an edible before watching.
Something else that makes "Squid Game" even better (to me) is, according to The Wall Street Journal, "Hwang Dong-hyuk came up with the idea for the show over a decade ago, while living with his mother and grandmother. He had to stop writing the script at one point: He was forced to sell his $675 laptop for cash."
If that's not inspiring, and a sign to get you to keep going and following your dreams, I don't know what is. If there's one thing we take from 2021, let it be the story of Hwang Dong-hyuk, how he never gave up, and as a result has a show that is breaking Netflix.
According to The Washington Post, another draw to the show is that it addresses inequality between the poor and the rich. This is something that a lot of us have felt this past year and a half as we've been dealing with COVID-19.
If you are into dramas and don't mind watching people get killed for money (it's definitely violent), I can't recommend this show enough. But even if you don't think you'll be into it, give it a try because you might be surprised.
If nothing else, at least you can chime in with your two cents since everyone is talking about it.
This article was originally published on