This Is When Everything Changed For My Daughter
by Cara Arnold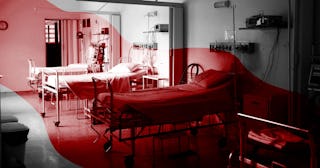 Pixabay/Pexels
12 years ago, 7 pounds of perfection was placed in my shaky hands. I didn't know what I was doing but looking into that baby's eyes I knew I'd do anything for that sweet girl looking back at me. I was but a baby myself. And whether I was brave or naïve, I didn't hover. I parented with care, but not caution.
I took her hand in mine and for a season we grew together. I nursed her. She nourished me. I taught her to walk and she helped me find my feet. We shared laughter, ice cream cones and moments. We made memories. As she grew, I showed her what life was and she in turn showed me what it was all about.
Then came the season it all changed.
Her body, the one I gave her, attacked her brain. And overnight the life we'd built together was gone. She seized so hard and so long I thought we'd lost her. Her eyes were vacant, she couldn't speak and a feeding tube nourished her. Helpless as I felt and as weak as she looked, she held on. And I looked into her eyes, as I'd done so many times before, and promised I'd do anything to keep her safe.
She left the hospital immune deficient, physically weak and experiencing seizures at every turn. I left traumatized. Afraid of seeing death through her eyes once more. For a final time. And, again, with a mix of naivety and bravery I vowed to keep her safe.
I tried. I removed extracurricular activities and had a tutor work with her at home for school. She visited with friends on FaceTime, but seldom face to face. She wore a mask to her outpatient therapies five days a week, and even around her brothers. And as it turns out, it still wasn't enough. I took her out for her birthday to a low key "princess tea." I called ahead to ask about the presence of lights and sound and sure the menu was gluten free. And with a mask for protection and noise cancelling headphones she met Belle and Moana. Then, a little girl twirled by in light up shoes. And my girl seized. And seized. Until it took her breath away. And for the second time I carried a limp, lifeless daughter through the ER doors.
The shoes caused the seizure. But it could have been anything. Her medication levels were off, ever so slightly. Insurance had delayed treatment and she was "susceptible." And she had a hint of a cold. It was the perfect storm. And it struck. Again, changing the season.
She spent just a week in ICU that time. Once they stopped the seizures her breathing normalized. And as they pumped chemo through her veins, targeting the b cells attacking her brain, light returned to her eyes.
But this time I didn't take her home to a bubble. Because the fear I felt changed me. It reminded me how fragile life was and how much she deserved to live it. Because as she stared death down, all I could think is how much she hadn't done. And I realized her last memory, whenever it may be, shouldn't be one of captivity.
For most parents, this is natural. We strive to launch our children into the world. With Gracie, it was more complicated. Because letting her live meant risking her life. And that fought against my only instinct as a mama, which is to keep her safe.
But that's the crux of parenting a medically fragile child. Your desire to protect them is juxtaposed with their desire for life. And it feels incompatible.
Your heart says, "Safety first."
Theirs says, "Let me live."
And in the end you must meet in the middle. Because though a child may be sick, they're alive. And they deserve to live. And life doesn't always take place between four safe walls. So, if that's all a child sees, they're not living. And if they don't live, they'll never know what we beg them to fight to live for.
I want my girl to have forever. And I'm going to fight with all I have for her to see it. But now, more than ever, I know the importance of giving her today. And that will never happen if I'm into the "what if's" tomorrow holds.
So this season we're weathering the storms. We hunker down when it rains, and we bask in the sun. Because though she fights a relentless disease, it will not take her childhood.