Facebook Will Finally Start Deleting Posts With False COVID-19 Claims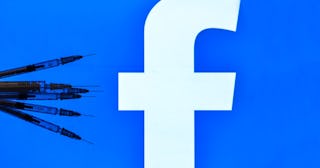 Artur Widak/NurPhoto/Getty
Finally, Facebook is taking action against groups and users who spread false information about COVID-19 on its platform
After years of its platform being used to spread rampant misinformation, Facebook is finally stepping up. It started by banning posts that claim the Holocaust never happened. Then the company claimed it would ban ads that "discourage people from getting a vaccine," though those continued to run after the announcement. The deadly insurrection at the U.S. Capitol on Jan. 6 seems to have been a turning point for Facebook, after the mob that stormed the building was fueled by election lies that spread online, including on Facebook. Now, the company says it will finally crack down on false claims about COVID-19, a move that could actually make a huge difference.
According to an updated blog post from the platform, effective immediately, groups, users, and pages that are known for spreading COVID-19 misinformation will risk being banned from the platform. Four new categories were added to Facebook's forbidden information list: claims that COVID-19 is manufactured or human-made; claims that vaccines are not effective against COVID-19; claims that getting infected with COVID-19 is safer than getting vaccinated against it; and claims that vaccines are toxic, dangerous, or cause autism.
They actually provide a very detailed list of claims that are considered forbidden.
Honestly, it's about time. Facebook has taken action against anti-vaccine content in the past, but has never outright banned it — it's only "reduced its visibility," which clearly hasn't worked, considering the current (incredibly disturbing) strength of the anti-vax movement.
A Facebook spokesperson refused to detail exactly what the thresholds are for banning users and removing information, saying that that may give users the ability to game the system to avoid being banned. They did say that users who violate the new policy will face an escalating series of restrictions and enforcement actions before they get banned from the platform.
Starting with the new changes, users who search for vaccine information will be redirected to more "authoritative" results.
"This is based on guidance from public health organizations that pervasive misinformation about COVID-19, and vaccines more broadly, is contributing to COVID-19 vaccine hesitancy that could have immediate and long-term physical health harms for people around the world," Facebook's spokesperson told HuffPost.
It will take time to see whether Facebook will enforce these new rules, and whether they'll actually help slow the rampant spread of COVID-19 misinformation. The company has a reputation of announcing these types of rules and then not fully enforcing them, and the company's founder, Mark Zuckerberg, has long been an outspoken proponent of free and unpoliced speech on the platform, no matter the dire and dangerous real-world consequences.