Facebook Marketplace Is Getting Me Through A Difficult Pregnancy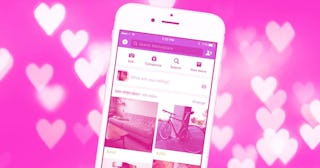 Scary Mommy, Facebook and freestocks.org
At 30 weeks pregnant, I fantasize about a rattan patio set I found scrolling through Facebook Marketplace. Listed as only two miles from my house and described as "Used-Like New," I imagined myself and my family post-pregnancy enjoying the set the following summer: legs propped up on the ottoman with a glass of wine, and my husband next to me with our baby girl. All three of us in front of the warm chiminea in fall.
My favorite items in the Marketplace are the ones closest to home. The ones that tout "Brand New-Still in Box" or the items that, with some tenderness, could be restored back to their original selves. I've scrolled my time away through discounted planters sold in bulk, lightly used string lights, and shaggy rugs looking for new homes. I dream of those planters full of daisies and chrysanthemums. I feel the fuzzy rug under my toes in the baby's nursery. And I can see the bright string lights kissing the cedar fence.
Not a typical shopping experience, Marketplace offers me freedom without the pressure to buy. It's here that I can move unencumbered by my pregnancy. I'm back in action, discovering bargain items that once brought me joy before pregnancy such as the never-used, still-in-box dutch oven for making winter stews, or the lightly used garden trowel and pruner just in time for use in my summer garden. These items and their associated functions are artifacts from a past life I can still access through Marketplace. Remnants from a life I still have hope to live again post delivery.
Along with this browsing freedom, Marketplace allows me to discover the person behind the product, and often the chance to live vicariously through them. After clicking on any sale item, I can enter the seller's world through their personal Facebook profile, bearing witness to news of their engagements, new babies, and vacations.
It's the story behind the posting that seduces me into clicking beyond the item. The most attractive postings always provide context or a reason for the sale. One seller explains I just got married and while my current heels brought me much joy when I was single, it's time to part ways with them! Looking for the next owner for some of my babies! And another shares This chiminea brought us a lot of warmth in the fall nights, but we recently dug out a fire pit and are looking for a new home for one of our favorite pastime pieces!
After being an observer for months now, I finally took the next step. I made an offer to buy an item, but with the sole purpose of connection. My first communication with a seller stands out the most—a posting for a farmhouse table I spotted one night after a terrible few weeks stuck inside my house with morning sickness. The listing read: Made to order tables from reclaimed barn wood. Only $170. Tell me what you need! Made with lots of love.
I clicked on the 30-something seller's profile picture. His public albums included photos of him in his workshop, sawdust covering his goggles, and tools scattered on the floor. There were multiple pictures of a little blonde boy, maybe five or six, enjoying a swing set, a first Christmas, and some building blocks. The happy boy in the photos reminded me that this rough, often unpleasant pregnancy would have its reward. I cosmically thanked the little boy for that reassurance and messaged the seller. Is the table still available? I anxiously awaited his response.
A few hours later, the seller messaged back, Yes. when do you want it? The warm man I imagined from the picture, faded. He was so direct. Transactional. How long did it take you to make it? I asked, hoping I could warm him up. It's gorgeous. He messaged back quickly, Thank you! They take me about five or six days to complete, he replied. We're getting warmer, I thought. Maybe I was just selling him short. Let me think about it, I wrote back. I have to check with my husband. He wrote 🙂 take your time! Look forward to hearing from you.
But I never replied. That small amount of communication filled the gaping hole inside of me for connection, yanking me out of deep loneliness and immobility I'd been experiencing for months. Even if for a few minutes, this low stakes connection made me feel less like a single branch and more a part of a tribe again.
I'm not "the pregnant woman" on Marketplace. I don't have to talk about my baby or when she's due, how far along I am, or what I'm craving today. (Mayonnaise, if you're interested.) I'm not the woman with extreme morning sickness. Not the woman dehydrated from being ill 15-25 times per day. I'm the woman looking for a new pair of shoes. Or a farmhouse table. Or an outdoor furniture set. I'm living life. I'm no longer a ghost, only visible when someone notices my big, round belly.
This article was originally published on