When No One Shows Up For A 4-Year-Old's Birthday, Facebook Mom Group Steps In To Help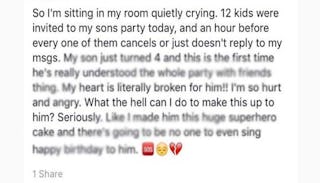 Facebook moms group saves the day when no one shows up for a 4-year-old's birthday
The thought of no one showing up at your child's birthday party is enough to give any mother massive anxiety. It's cringeworthy. The experience we all dread happened to one mother last week.
It was just an hour before her soon to be 4-year-old son Taenon's fourth birthday party when Rachelle Briannan started receiving messages. One by one, moms were backing out, leaving her in the dreaded position of having a party, a birthday boy, and no guests. She took to her Facebook mom's group to vent her frustrations.
"So I'm sitting in my room quietly crying," she confesses. "I made him this huge superhero cake and there's going to be no one to even sing happy birthday to him." Twelve kids and not one attendee? Ugh.
This is where we should talk about how great Facebook moms groups can be for a second. A lot of moms depended on them for interaction and support. It may sound strange to those who have never been in one, but they can be an incredible support network. This story is about to prove just how incredible they can be.
An hour after Rachelle posted to the group, 30 moms and their families showed up at the McDonald's where Taenon's party was scheduled to take place. His empty table was immediately filled with kids. A local party store donated balloons, and the local fire station showed up to let kids explore their trucks.
Awesome mom group saves the day. "There are literally not enough thank you's in the world to let everyone know how grateful my family is," Rachelle wrote in a note to the group. "I was so happy to see people forming friendships at his party, not just kids but the parents… Everyone was a united front and it has been more than amazing to see and be a part of!"
If you've never been in a Facebook moms group, just search your town and "moms." You'd be surprised how many of these things there are — and how great they can be.
This article was originally published on