Facebook Rolls Out Education Features To Combat Anti-Vax Propaganda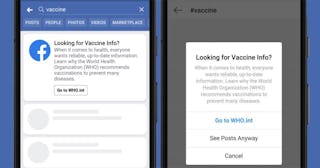 Facebook
There will be informational pop-up windows on everything anti-vaccine related on Facebook and Instagram
The spreading of misinformation and "fake news" is something Facebook has been attempting to combat for quite some time. Not only is the sharing of misleading statistics, studies and information just plain wrong, but it can also be dangerous and life-threatening — as is the case with so many of the anti-vaccine stories and memes circulating the social media site. Amid the highest rates of vaccine-preventable diseases in decades, Facebook and Instagram are rolling out some new and much-needed features to combat the spreading of anti-vaccine misinformation.
On Wednesday, Facebook, which owns Instagram, made an announcement that informational pop-up windows will appear when a user searches for anything vaccine-related, visits vaccine-related groups and pages, or taps vaccine-related hashtags on Instagram. But that's not all. Users based in the United States can connect to Centers for Disease Control and Prevention via the pop-up window in order to obtain credible information on vaccines. Those outside of the US can be connected to the World Health Organization.
This move is fully endorsed and supported by the Centers for Disease Control. "We know that parents often turn to social media to access health information and connect with other parents, and it can be difficult to determine what is accurate and who the credible sources of information are," CDC spokeswoman Kristen Nordlund said in an email on Wednesday, via CNN. Combating "vaccine myths and misinformation is a shared responsibility and we applaud these efforts," she added.
According to World Health Organization Director-General Tedros Adhanom Ghebreyesus, the group has been in discussion with Facebook for several months "to ensure people will be able to access authoritative information on vaccines and reduce the spread of inaccuracies."
"Vaccine misinformation is a major threat to global health that could reverse decades of progress made in tackling preventable diseases. Many debilitating and deadly diseases can be effectively prevented by vaccines," he added. "Major digital organizations have a responsibility to their users — to ensure that they can access facts about vaccines and health. It would be great to see social and search platforms come together to leverage their combined reach."
Facebook first announced it would be cracking down on the spread of anti-vax propaganda back in March, when they outlined their all-encompassing plan. Today's announcement comes just a week after Pinterest revealed that going forward, searches for "measles," "vaccine safety" and other vaccine-related content would return results from public health organizations.
Amazon and YouTube are also doing their part to combat the spread of misinformation regarding vaccines. Earlier this year, Amazon removed all anti-vaccine documentaries from Prime Video, while YouTube pulled ads from anti-vaccine promoting videos — making it impossible for anti-vaxxer content creators to make money.
Legislators are also tightening up vaccine laws. For example, California is considering implementing some of the strictest vaccine laws in the country, which would make it incredibly hard for parents to obtain medical exemptions for getting out of vaccinations for their kids.
While some of these measures may seem extreme, hopefully they will be instrumental in educating parents about the importance — as well as safety — of vaccination.
This article was originally published on