Woman Creates Neverending Story Doll, Entire Internet Wants It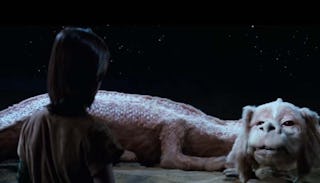 Do you ever get that sinking feeling something is missing in your life? We may have figured out what that thing is.
It's a plush version of Falkor, the luckdragon from The Neverending Story. The movie is a cult classic kids from the 80's loved. Does it stand the test of time? I'm too biased to care. But the luckdragon was the cutest, weirdest, gentle giant to ever grace the screen and this plush toy is the closest anyone has ever come to replicating its charm.
Lara Hosler, the woman behind the Etsy shop GameGuardians came up with the doll and is shocked at the response she's getting to it. She has so many orders, the self-described "geek and passionate crafter" can't even fill them. According to her Etsy page, she's had 1500 people contact her wanting to buy one, and she admits the "waiting list would be years." She's not even able to respond to all the messages she's gotten — there's just too many.
"I think it's clear that the world needs more Falkors," she writes on her page. "I don't have it in my heart to overprice him. People with less disposable income need more luck(dragons) right? I can only make about 15 a month and I don't have a factory or elves( thanks elves you missed a great opportunity guys… ) So I'm going to start also offering my pattern for sale with detailed instructions and pictures. That way people are encouraged to make their own adding their own creative touches or make as many as they can and sell them." She ends her message with #spreadtheluck.
The doll measures four feet long. It's like having your own dragon/puppy/body pillow to hug at night. Who doesn't want that? I can barely sew a button on a shirt, so I won't be making one — but it's pretty great that she's sharing the love by offering up the pattern for anyone to make.
Of course, this is the internet, so plenty of people are showing up to remind her that this is a major case of copyright infringement and she's making money off someone else's creation. Bah, humbug. The movie has been out for 30-plus years and the closest thing we've gotten to a Falkor doll in that time is this thing:
I mean, it's cute and all — but it's no Falkor. It's also $300 for some odd reason.
Who wouldn't want to give their kids (or themselves) this adorable link to their past? Looks like we'll have to find someone who knits — but we'll definitely be checking the GameGuardians Etsy page for the debut of the pattern.
This article was originally published on