10 Signs 'Witch B*tch Fall' Is Here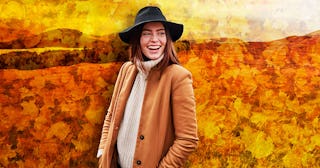 Scary Mommy, Kadri Vosumae/Pexels and Plume Creative/Getty
I'm just going to say it — I'm glad Hot Girl Summer is coming to an end, because frankly, I didn't do any of the hot girl shit (whatever the hell that is) anyway. I did plenty of sad girl shit. And there was the week I did lazy girl shit. Oh, and I love doing hungry girl shit which is a year-round thing for me.
Now, we are heading into Witch Bitch Fall and whether you like it or not, the pumpkin spice is flowing, and I'm wearing a beanie as soon as the temps dip below 65 degrees.
How else do we know Witch Bitch Fall is here? Let's count the ways.
1. The damn slow cookers are out.
There is nothing like a crisp breeze in the air that makes us want to try all the slow-cooker recipes we can. Smelling chili cooking on a Sunday takes us to a special place. We make a pork butt like no one else, and if you have never tried a carrot spoon cake in the crock pot, this is the time, lover.
2. We want all the sweaters.
Make them oversized and cozy. All we want to do is pull on a slouchy sweater or a cuddly cardigan with our leggings or favorite mom jeans. Sweaters feel like a hug, and yes, we need them in every color.
3. Boots on boots on boots.
Get the over-the-knee boots (to wear with the sweaters and leggings), get the cute booties, and we might as well get the green Hunter boots we've been coveting. It's time to store the flip flops and let everyone know how strong our boot game is. Oh, and don't forget the slouchy, soft socks. And if you're a little (or a lot) overdue for a pedicure? Who cares — boots mean nobody will see it!
4. The fall lineup of movies is ready.
We have our favorites we watch every fall and we aren't afraid to put them on repeat, even though it drives our family crazy.
There's 'Fantastic Mr. Fox', 'Hocus Pocus', 'When Harry Met Sally', 'Autumn In New York', 'Practical Magic', and 'The Craft'. And if you are a Hallmark Channel fan, don't forget they have a whole slew of new fall movies playing all! the! time!
5. Our candles are lit.
There is nothing better than coming home after a long day and lighting up that vanilla spice, apple cider, or pumpkin candle. I don't care what anyone says. We want our homes smelling like a quaint bakery in Vermont all the damn time. We stock up in August and burn one every damn day.
6. We need every flannel we see.
Flannels are comfy, make great jackets, and are the perfect thing to throw on over your pajamas if you are chilly. We can tie one at the waist if we want to be fancy, and love curling up in one with our favorite book.
7. We can say goodbye to boob sweat.
Thank the fucking lord above. When the boob sweat goes, we are all happier. It's time to put away the fans, air conditioners, and not think about how we are going to protect the undertit any longer.
8. We don't feel bad about falling asleep before 7pm.
It's chillier, gets darker earlier, we are bundled in sweaters and throws with the scent of apples and slow-cooked meats flowing through the house so who could stay awake anyway?
The front door can barely open because of pumpkins and fall wreaths.
We get into the fall decor and come home from the apple orchard or farmers' market with corn stalks, a ton of pumpkins, mums in every color and fifteen cinnabrooms. You decorate the house while wearing a fab flannel of course and feel like Marthafucking stewart.
9. Football is here, Bitch.
Even if you aren't a huge sports fan, you have to admit there is nothing like gathering the family or having friends over and serving some kick-ass food while sitting on your ass. It's a great way to bond, relax, and catch up.
10. It's time to bake.
Trading in the BBQ chicken for some fresh banana or pumpkin bread is a nice change. You crave apple pie. We decide it's time to try a batch of cinnamon rolls. We can't get enough donuts and hot cider.
It's time — Witch Bitch Fall is here. You might not like it, but the Fall Bitches do and it's coming in hot this year … even hotter than Hot Girl Summer.
This article was originally published on