Fun Ways To Incorporate Your Kids Into Your Anniversary Celebration
by Colleen Dilthey Thomas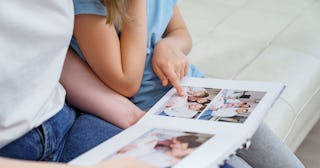 ndrey Sayfutdinov/Shutterstock
Anniversaries are a time to get all up in your feels and swoon over your partner. That may mean a romantic dinner, some time alone, or a walk down memory lane. But how can you get your kids excited about the celebration? They might be a product of this relationship and it can be fun to get them involved in remembering the day. The older they get, the more they might want to know more about their parents' love story. Here are a few fun ways to let your kids be a part of your special day.
Find Your Wedding Album Or Video
This is an easy one. Most of us have a bunch of pics from our special day. They may be in a beautiful album, or if you're old like me, some snaps from the disposable cameras that were placed on the tables. Getting a chance to look at your parents when they were younger and to get a glimpse at more youthful grandparents, aunts, uncles, and friends can be fun for kids. If you want to take it up a notch, show them your wedding video, if you have one. This is a great way for you to relive the ceremony but also for your kids to feel like they were there with you.
Get Out Your Wedding Outfit
If your dress isn't preserved in a fancy box and is accessible, let your kids have a look. Let's be honest, this was the gown that you had dreamed about forever. Seeing your kids' reaction to your dress can be a lot of fun. But be prepared. They may love it, or they may absolutely hate it. Styles change, don't let your feelings get hurt. If you are feeling extra nostalgic, let them try it on and have a little daydream about what it might be like if they borrowed it one day for their own wedding.
Take Them To Where The Ceremony Took Place
If you are local, this can be a fun way to reminisce about your ceremony. Take a drive to the place where you were married and let your kids look around. See how much things have changed, or stayed the same, since you were there. If there is a special reason why you chose the venue, tell your kids the story. If it has a neat local or historic factor and there is someone there who can tell that story, let them be part of the day for your kids too. Try to make them understand why this place is so important to you.
Try To Recreate Your Wedding Meal
If you had a delicious salad or an amazing pasta dish at your wedding, try making that meal with your kids. Or, do something simple, like grabbing a cake mix and a tub of icing and create a wedding anniversary cake. Let the kids decorate the cake and maybe take some fun pics of everyone tasting the cake. If you are feeling mischievous, you could also add a bit of surprise cake smashing to the pics. What kid wouldn't love that?
Tell Your Kids Your Engagement Story
Why did you decide to get married? Who proposed? How long did you date before tying the knot? Did your wedding take a long time to plan or was it quick? Give your kids all of the details. They will likely want to know these things, as they get older. Telling them about how your relationship came to be and why you chose to be together can give them insight into themselves and your family and why they are the way that they are. Plus, it's really fun to learn things about your parents that you didn't already know.
Talk About How Your Family Came To Be
Maybe you decided to get married because you had a child and you wanted to create a family. Or, maybe your family came about after you were married. Tell your kids about it. Let them know why they are a unique part of your family. Every child plays an important role in a family and how they became a part of that family is special. Talk about the day that they were born or adopted. Explain to them how anniversaries remind you of them and how much you love having them as a part of the family that you and your partner have created.
Anniversaries are a wonderful way for us to walk down memory lane with the one that we have committed ourselves too. If you have children, they are also a fun way for them to learn a bit more about their parents and how it started and how it's going. Certainly take time on your anniversary to show your partner how much appreciation and love you feel for them just like you did the day that you said, "I do." But don't forget about the kids. Let them in on the celebration too and let them reminisce with you. You never know, things could get crazy. But hey, who isn't up for reliving a little cake smash?
This article was originally published on