Our Favorite Family Costumes For 2021
by Kristen Mae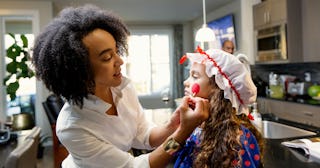 Inti St Clair/Getty
If you're like me and it's only just now clicking that it's freaking October already and I need to hurry up and figure our costumes for Halloween so that my children think I at least tried because Halloween is supposedly my favorite holiday and one time I even crafted an intricate ghoul costume on stilts for my son that was the talk of the neighborhood for two years, but now we're stuck in a pandemic and who has the time to try to be The World's Best Mom, you might feel a little … behind.
But you would at least like to be The World's Okayest Mom (right there with you), and this year you've got a hankering to do one of those family Halloween costumes where everyone dresses up in a theme. You used to think family Halloween costumes were cheesy AF, but these days you'll take sparks of joy from wherever you can get them. You and the fam are going to dress up and it's going to be very cute, or very spooky, or very whimsical, and dammit, everyone's going to like it.
As for inspiration, we've got you covered. Whether it's something you can find in a store or online or something you can throw together (or spend hours sewing) yourself, we've rounded up our favorite family Halloween costume ideas from the cleverest creators on Instagram. Because we could all use a little wholesome joy this Halloween.
Wizard of Oz
@robertsecond53 and his gorgeous fam absolutely nailed Dorothy and her fellow Wizard of Oz cast of characters. These costumes look like a mix of store-bought and clever creativity, and we are downright inspired.
101 Dalmations
https://www.instagram.com/p/CUsiaCQBrU8/
Who among us has not fantasized about sporting Cruella's striking black-and-white do? It appears @lulubguerrero's kids' dalmatian costumes were purchased, but this would be a fairly simple craft project to pull off with some white clothes and black craft paint.
Scooby-Doo
@pidayfamily also appears to have mixed purchasing ready-made costumes (hello, baby Scooby) with clever outfit choices to create a perfect representation of the cast from Scooby-Doo.
Mean Girls
Another epic family costume idea from @pidayfamily. Y'all. The boob cutouts. I can't. This gorgeous family has a whole series of family costume ideas on their Instagram you have to check out.
Spooky Classics Compilation
https://www.instagram.com/p/CUwBz1cMo7Q/
If you're looking for family costumes on a budget, giving everyone their own spooky classic costume is a great option, as demonstrated by @thelindsaylist. So much of this can be crafted from items you already own, with inexpensive add-ons (like cat ears and tail, or bat wings) to complete the look.
Skeletons
If you're looking for quick and simple, follow @thegalvanfamily_'s lead and get the whole family matching skeleton … pajamas? These might be pajamas. I bet the bones glow in the dark. Brilliant — literally.
Superheroes
Whether it's just the kiddos or the adults get in on the fun too, you can always do what @the.foreman.five does and dress everyone up like a different superhero and still feel like you have a cohesive theme. We promise we won't get mad if you mix DC and Marvel.
Racecar Driver And Pit Crew
Here's another simple-ish costume to pull together with a little creativity, from @the.foreman.five. You could even have the kids do a fun craft project of turning a cardboard box into a racecar. You'll probably end up finishing it by yourself, because parenthood, but we're sure the finished product and the pictures you get out of it will be worth it.
GoT Dragons With Daenerys Targaryen
Um, can we talk about tiny adorable Daenerys? @paulmannplus2 totally nailed this family costume, from top to bottom. Give the role of Daenerys to one of your littles or steal it for yourself, because duh, it's freaking Daenerys.
The Flintstones
Buy these Flintstones costumes online or at a costume shop, or piece them together with felt scraps. They don't have to be perfect because we're talking about cave people, here. Whichever way you do it, we love this family costume idea from @ingridt1992.
Another super simple but fun idea for a family costume that costs almost nothing — a zombie family. All you need is dark, torn clothing and some dark makeup to smear under your family's eyelids to make them look undead.
Whether you venture out for trick-or-treating or settle in for a family movie night matching your costume theme of choice, we hope your family enjoys a sweet, sweet-filled Halloween.
This article was originally published on