Dogs Are The Best Creatures On The Planet And Here Is Proof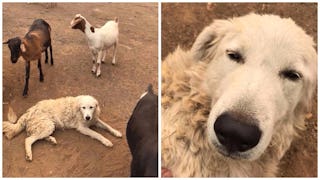 Image via Facebook/Roland Tembo Hendel
Their family dog refused to leave his goats as fires ripped through the area
The California wildfires have devastated almost 900,000 acres, burning over 5,700 structures including entire neighborhoods and sent thousands fleeing from their homes. There are now 40 people reported dead as a result and as firefighters work to contain the fires, a story of bravery has emerged giving all of us the inspiration we need right now.
Odin, a Great Pyrenees, is one amazing dog. His owner, Roland Tembo Hendel, wrote about his family's experience losing everything they owned as fire ripped through their neighborhood in Sonoma County last week. Frank Somerville, an evening anchor at KTVU in California, shared his story and Odin has since become a symbol of hope during these tragic wildfires.
"We had minutes to load up the animals and run from the advancing firestorm," Tembo Hendel shared. "Despite the sounds of exploding propane tanks, twisting metal, and the hot swirling winds, Odin refused to leave our family of 8 bottle-fed rescue goats."
When the family finally reached safety several hours later, they agonized over the thought that they'd left their animals to die.
When they returned to what had been their home days later, there was no sign of Odin or the goats. But later that week, his owner shared some wonderful news. "oh blessed Be. They are back. All of them. Safe and sound. Even silly little Tinkerbell. Odin always made sure she didn't fall too far behind. They must have just gone to find us. Mercy. Evac team is on its way."
Though he was burned and weak, Odin was found "surrounded by his 8 goats, and several small deer who had come to him for protection and safety."
And this is why dogs are the best creatures on the planet — they are loyal, obedient, brave, and expect nothing in return. We could all stand to learn a lot from them.
Though Odin was "weak, and limping, his once thick and beautiful coat singed orange, his whiskers melted," he was understandably elated to be reunited with his family and his sister, Tessa.
Tembo Hendel shared on his Facebook page that Odin is in the process of healing from his injuries and that "the wonderful volunteers at Sonoma County Fairgrounds gave Odin a check-up and said he is in remarkable health given what he's been through." The fairgrounds have transformed into an animal and livestock rescue in the area, providing hay, feed, water, shelter, and veterinary care for those in need.
Though Odin is expected to make a full recovery, this hero dog is getting some much needed pampering. "Tomorrow he gets a shampoo, a grooming, and nice steak," Tembo Hendel wrote. Thanks to Odin, their family is able to count three dogs and eight goats to their personal inventory of items that remain. For a family that, like many in the area, lost almost all of their possessions, Odin truly is a miracle.
This article was originally published on