How Our Family Lived A Nomadic Lifestyle For An Entire Year
by Annie Reneau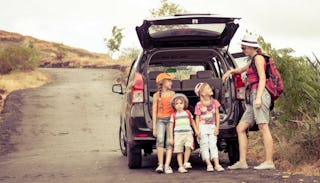 Shutterstock
Three years ago, when our kids were 13, 10, and 4, our family did something drastic but awesome. We sold a bunch of extraneous stuff, packed what would fit into our trusty Honda Pilot, put the rest of our worldly belongings into storage, and took off on a year-long road trip. And we did it for basically the same cost as staying home.
Here's how it went.
I already worked from home, and my husband's company had recently gone to a remote work model, so we could work from anywhere. We homeschooled the kids, so they could learn from anywhere. We were renting a house in a Chicago suburb, but our landlord gave notice that she wanted to sell it when our lease was up — so we really could live anywhere.
I had read blogs of people who lived a "digital nomad" lifestyle, working as they traveled. We loved to travel as a family, and we figured if we were ever going to do something like that, this was the time. The kids didn't have any serious commitments, our working arrangements allowed for it, and we were about to be homeless anyway.
I feel I should mention that we aren't wealthy, at least not by American standards. With our combined income, we still earn nowhere near six figures. Solid middle-classers here, but we're frugal and resourceful. So what would happen if we took the money we'd normally spend on housing, utilities, and classes and activities for the kids, and used it to travel? Would that work out financially?
We started crunching numbers. I looked into the RV option briefly, but it wasn't for us. I love RVs for a weekend of camping, but not to live in for a year. I had a friend whose family had done some nomadic living for a spell, and she said they'd found great deals renting off-season tourist places. So I started exploring.
Using HomeAway, VRBO.com, and AirBnB, I explored possible routes we could take, staying a month or so at a time in one place. We planned to attend a camp in Washington state for a week in the summer and we needed to be back in Chicago for a week in October for work, so we used those dates and places as anchors. I soon discovered that Cape Cod is wicked cheap in the offseason, so we planned to spend a chunk of the winter there.
Our allotted housing payment for our family of five in Chicago — including utilities — was about $1800 a month. (I know for some people that seems really high and for others it's quite low. It's shocking how much housing costs vary from place to place.) We needed to keep our housing costs about the same. As I started to plan, I found that we could do that if we averaged rents out over the whole trip. We were departing in May, and summer is expensive everywhere. So we had higher rent payments in the first few months of the trip and lower as we got into fall and winter.
The first — and priciest — place we stayed was a two-bedroom condo in Dana Point, California, for $2400. It was incredible and right across the street from the beach. I never wanted to leave. The cheapest place we rented was a three-bedroom condo in Orlando, Florida for $1200. Our biggest score was a gorgeous, well-appointed four-bedroom, two-bathroom house on Cape Cod, where we stayed from October to January for $1500 a month. (That same house rents for $3500 per week in the summer!) Every rental included utilities, and we stayed with family for a month in the middle of the trip. So it was actually pretty easy to stay under $1800 per month for housing, even with the $200 per month storage unit for our stuff included.
Food costs were basically no different than they were at home. All of the rentals had the basic herbs and spices, and we just grocery shopped and cooked as usual. Gas was an extra expense, of course, but the savings from our kids not taking any music lessons or ongoing classes pretty much covered the extra gas costs.
We had a handful of friends along our travel route, so we had some free places to crash for a night between stays, as well as an opportunity to see people we rarely get to see. The five or six hotel nights we had (Priceline's Express Deals are the best, btw) were covered by the stuff we sold before we left.
The trip itself was life-changing. This country has so many beautiful places. The drive through southern Utah looks like a different planet. The Oregon coast is absolutely stunning. Ocean sunsets never ever get old. The Lake Michigan beach in South Haven, Michigan has the softest sand I've ever felt. We totally geeked out over the Revolutionary War and transcendentalist history in Concord and Lexington. Savannah's moss-dripping trees look like something out of a Disney movie. Each place offers something unique, and we loved exploring regional and national treasures.
Speaking of Disney, we finished our trip with a month in Orlando in a condo 10 minutes from Disney World. Since our housing costs were already covered, we could bring our own food in, and we didn't have to pay for transportation, we were able to do a seven-day Disney World and three-day Universal Orlando vacation for less than $3000. That was our one big splurge outside our budget that we dipped into savings for. So. Much. Fun.
It wasn't always easy, of course. It took a lot of planning and coordinating. We got tired of packing up the car every month, and our oldest got homesick a few times. We did make some new friends along the way, though. And we had several friends and family members come stay with us in our various stops, so we got to share some cool experiences with people we loved. Overall, it was a grand adventure that we'd do over again in a heartbeat.
We learned a lot in our travels, but the main lesson I hope our kids took away is that you don't have to live life a certain way. There's no rulebook that says you can't journey outside the box, either temporarily or permanently. We happened to have ideal circumstances for our nomadic trek, but I've met people who rented out their owned homes and negotiated their work in order to do something similar. You never know what's possible until you try.
If you dream of doing something drastic but awesome, don't let anyone tell you it's crazy or impossible. If you think creatively, use your resources wisely, and seize opportunities when they arise, life can take you amazing places.
This article was originally published on