MLB Jersey Manufacturer Converts Factory To Make Masks For Healthcare Workers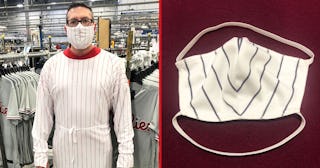 Fanatics/Twitter
Fanatics, a MLB jersey manufacturer, is using their factories to produce 1 million masks and gowns for healthcare workers battling the coronavirus pandemic
The Major League Baseball season may be on hiatus due to the COVID-19 pandemic, but one manufacturing company who produces MLB jerseys isn't using slowing down their production schedule. However, instead of producing team gear they have shifted their manufacturing focus onto something a little more useful during these scary times — producing masks and gowns for healthcare workers on the front line of battle against the highly infectious and deadly virus.
Fanatics, an Easton, Pennsylvania company has partnered with Major League Baseball and "converted" their factory in Pennsylvania to make the much-needed masks and gowns out of the same jersey that the players wear.
"Woke up in the middle of the night last week with idea of converting our @Fanatics factory in PA that makes official @MLB jerseys into a facility that makes much needed masks and gowns and then donating them to help fight this horrendous virus," Fanatics founder and executive chairman Mark Rubin tweeted on Thursday.
"This past weekend PA Governor @GovernorTomWolf and Attorney General @PAAttorneyGen each called me saying they desperately needed help getting masks and gowns to the frontline workers across PA," he continued, explaining that moving forward, they would use the "same fabric we make the jerseys with" to produce them.
He added that they plan on making one million masks and gowns, and then "immediately donate and distribute them to hospitals and emergency management personnel across PA."
Eventually he hopes to extend to NJ and NY, "the epicenter of the COVID-19 outbreak in the US!!"
"Thanks to @MLB Commissioner Rob Manfred for not only agreeing to halting production of MLB jerseys but also doing everything possible to make this happen as quickly as possible!!" he added. "And thanks to our incredible associates who raised their hands and wanted to be part of the effort to help the frontline heroes in this war stem the spread of the virus!!"
The Associated Press reports that after being contacted by the state last week, Fanatics immediately developed a prototype. It was promptly approved by the state's emergency agency on Tuesday.
Rubin also made sure to thank the 100 workers who volunteered to return to work, after the factory had been shut down as part of a state mandate earlier in the month.
The best part about Fanatics' venture with the MLB is that they are covering all of the costs — which they estimate to be around $3 million — donating the masks and gowns to local hospitals.
"We hope this effort can play a part in coming together as a community to help us through this challenging situation," MLB Commissioner Rob Manfred said in a statement. He added that he was "proud" of the partnership "to help support the brave healthcare workers and emergency personnel who are on the front lines of helping patients with COVID-19. They are truly heroes."
Former MLB star Alex Rodriguez also tweeted his support, gushing that he "couldn't feel prouder of our game right now," calling out Manfred and Rubin for "stepping up to the plate."