Why We Must Look At The Photo Of A Drowned Migrant Father And Daughter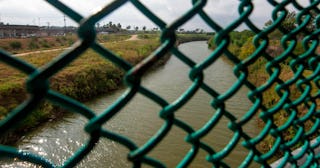 JULIO CESAR AGUILAR/Getty
The image of a drowned father and daughter who died seeking asylum represents the horror and desperation of the border crisis
As more and more atrocities come to light surrounding the growing border crisis, it can be difficult to wrap your head around just how terrible conditions are for the hundreds of thousands of men, women, and children seeking asylum in the United States. But today, a single image of a father and his 23-month-old daughter, drowned while crossing the Rio Grande into Texas, has captured the desperation and helplessness of the Central American migrants, as well as the failures of the U.S. to properly respond to the crisis.
The shocking and stark image was taken by journalist Julia Le Duc and published Monday by the Mexican newspaper La Jornada. It shows Oscar Alberto Martínez Ramírez and his toddler daughter, Valeria, lifeless and facedown on the banks of the muddy Rio Grande, surrounded by dead reeds and discarded beer cans. Valeria is wrapped in her father's black t-shirt, her arm still around his neck.
Information about the family is emerging slowly, and it paints a picture of why migrants are leaving their homelands, how desperate they are to find asylum in the United States, and how much they are willing to risk to find a better life. It also reveals how poorly the U.S. is responding to the crisis at the border, forcing families to attempt dangerous illegal crossings out of hopelessness.
The photographer wrote that the family had left deplorable conditions in their home country and received a humanitarian visa from Mexico. They lived for two months in a migrant camp in Matamoros, trying but repeatedly failing to get an appointment to seek asylum in the U.S. Desperate for entry, the family attempted to cross the Rio Grand near Brownville, Texas, but their journey ended in tragedy.
According to Le Duc, the man and his daughter safely crossed the river, but when the man reentered the water to go back to assist his wife, Tania, the girl jumped in after him. He swam to save her, but a strong current overtook them and Ramírez died trying to save his daughter.
Tania saw them swept away, and their bodies were later found on the Mexican side of the river.
"When the girl jumped in is when he tried to reach her, but when he tried to grab the girl, he went in further … and he couldn't get out," Rosa Ramírez, the man's mother, told the Associated Press. "He put her in his shirt, and I imagine he told himself, 'I've come this far,' and decided to go with her."
"You can see how he protected her, they died in each other's arms," she said.
The photo of the tragic event circulated the world on Wednesday, including appearing on the front page of the New York Times, a haunting image of what ends migrant families face, and of the failures of Border Patrol to process and aid families who come seeking safety and a better life.
Customs and Border Protection officials say that ports of entry into the United States are overwhelmed. At the same time, migrants who have entered the U.S. already face terrible conditions at overcrowded camps. Just this week, one center was found with 255 children lacking food, water, and sanitation — where children as young as eight were made to take care of toddlers separated from their families.
Instead of taking emergency humanitarian action in these dire conditions, the Trump Administration has cut services to migrant minors, like English lessons and recreation, while treating the issue with xenophobia and cruelty instead of with smart problem-solving, compassion and humanity. Trump is trying to raise funding to build a wall that would not stop the situation instead of working to keep everyone safe and looking at the heart of the crisis.
The government in El Salvador urged its people to stay put as they attempted to fix the economic conditions and poverty that is forcing so many to seek a better life.
"Our country is in mourning, again," Minister of Foreign Affairs Alexandra Hill said according to CNN. "I beg you, to all the families, parents, don't risk it. Life is worth a lot more."
Newly-elected President Nayib Bukele said that the bodies would be returned to El Salvador, and that the family would receive financial help from the government.
The picture is reminiscent of the image of a drowned 3-year-old boy named Aylan Kurdi, whose body washed up on a beach in Turkey after his family tried to escape the violence in Syria. In that case, the haunting photo led politicians across Europe to take a closer look at their immigration policies as millions fled horrifying conditions in their homelands.
We can only hope that the final image of Oscar Ramírez and his baby daughter will also move the United States to action.
In the meantime, here's what you can do to help migrants right now.