A 'Father Of The Bride' Reunion Special Is Happening THIS WEEK
by Cassandra Stone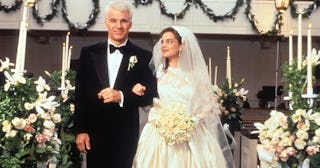 Touchstone/Getty
Mark your calendars for the 'Father of the Bride' Banks family reunion we've all been waiting for
After director Nancy Neyers teased us all with news of a possible Father of the Bride reunion a couple of weeks ago, fans everywhere have been waiting for more news. Specifically, when? How? Who (we need Diane Keaton, Steve Martin, and Kimberly Williams-Paisley and we need them now)? But most importantly, WHEN?! And now we have an answer. The reunion special of the best movie of 1991 is happening this Friday, Sept. 25.
RELATED: The Best Gifts To Give The Father Of The Bride
Yesterday, Netflix took to Twitter to share the exciting news about the upcoming special. The little teaser "trailer" is from the perspective of a 2020 George Banks behind his computer.
"25 years later, the Banks family returns for a very special event to benefit World Center Kitchen," the streaming service shared in the video message.
Fans of the movie (and honestly, if you were alive in 1991 you have no excuse not to be a fan) can tune into the reunion on Netflix's YouTube channel and Facebook page. Although it hasn't been confirmed who will be joining in on the fun, the original movie starred legends Steve Martin, Diane Keaton, Kimberly Williams-Paisley, George Newbern, Martin Short, B. D. Wong and Kieran Culkin.
Listen, if Martin Short doesn't immediately break into a verse of "Every party has a pooper, and that's why we invited you! George BAHHHNKS," I'm shutting it off. (Just kidding, my eyeballs will not move from every second of this reunion for its entirety.)
The "special event" will benefit World Center Kitchen, an organization working across America to safely distribute individually packaged, fresh meals in communities that need support – for children and families to pick up and take home, as well as delivery to seniors who cannot venture outside right now during the pandemic. To date, WCK has provided over 25 million meals in more than 400 cities.
Meyers originally teased this Banks family gathering on her Instagram account over two weeks ago.
"If he thought a wedding was a lot, how would he react to 2020? Coming soon to the phone in your hand!"
Bless you, Nancy Meyers, and your adorable, fabulously escapist films and their fantasy-laden kitchen scenes. We'll all be tuning in Friday to hang out with the Banks fam and the rest of the crew once again.
This article was originally published on