Fauci Says Biden's Plan Of 100 Million Vaccinations In 100 Days Is 'Absolutely Doable'
by Madison Vanderberg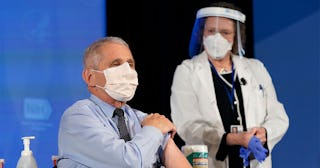 Patrick Semansky-Pool/Getty
Dr. Fauci says Joe Biden's ambitious vaccine plan is absolutely 'doable' and says two new vaccines are potentially being submitted for emergency use in a few weeks
If you, like me, are counting down the days to Joe Biden's inauguration with the hope that on January 20, 2021 the U.S. becomes slightly less terrifying, you are not alone. And if you heard Biden's COVID-19 relief plans on Friday and thought it sounded too good to be true (100 million COVID doses in 100 days? I'll believe it when I see it), take comfort in knowing that Dr. Anthony Fauci, the director of the National Institute of Allergy and Infectious Diseases, and soon-to-be chief science adviser to President Biden, who is the king of of managing expectations and being realistic, says he has confidence in Biden's ambitious vaccine plan and he believes this because two more COVID-19 vaccines are "weeks away" from getting approved for use.
In a Sunday, January 17, 2021 interview on NBC News' Meet the Press, Fauci says that Biden's vaccine plan is going to work. "One thing that's clear is that the issue of getting 100 million doses in the first 100 days is absolutely a doable thing," Fauci said, which is heartening to here because so far, the U.S. has absolutely fumbled the vaccine rollout. To date, 13.7 million COVID shots have been given in the U.S. after they became available about a month ago. To seriously ramp up the vaccine output, Biden will take advantage of things like the Defense Production Act, if need be, to ramp up vaccine production and supplies. The Biden-Harris administration is also aiming to install 100 federally-supported vaccination centers (including mobile clinics) across the U.S.
Also cool? Fauci says vaccine candidates being made by Johnson & Johnson and AstraZeneca are just weeks away from applying for emergency use by the FDA, which would give the U.S. a total of four vaccine options.
"I would imagine within a period of a week or so, or at the most, a couple of weeks, they're going to be getting their data together and showing it to the FDA," Fauci said. "They're going to have to get their data and safety monitoring board to look at it to see if it is appropriate to start, you know, essentially putting the package together to get an emergency use authorization. But we're weeks away, not months away, for sure."
The AstraZeneca vaccine requires two shots (like the current Pfizer and Moderna vaccines), but the Johnson & Johnson vaccine needs only one dose, which could potentially be a game changer.
There's so few moments of good news in this current administration, so when Fauci says he has a good feeling about the upcoming vaccine rollout (and this is the guy who did not spend the holidays with his kids and said we all have to stop looking at things with rose-colored glasses on), I'm going to latch onto his cautious optimism and dream of my future COVID-19 vaccine.