Fauci Says Stop Looking At The 'Rosy Side Of Things' And Prepare To 'Hunker Down'
by Madison Vanderberg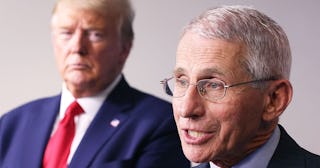 Win McNamee/Getty
Dr. Fauci says things won't return to "normality" until late next year and to stop looking at the "rosy side of things"
President Trump has been boasting about the accelerated COVID-19 vaccine timeline and in general, seems to downplay the seriousness of the pandemic, however, Trump's brand of uhm, toxic positivity always needs to be tempered by actual facts and science and that's why we have Dr. Anthony Fauci. Dr. Fauci, director of the National Institute of Allergy and Infectious Diseases, translated the Trump vaccine talk into an actionable timeline and essentially stated that by the time the vaccine is actually distributed to the American people and we can return to some semblance of "normality," we'll be well into 2021, so that means we need to "hunker down" and get through this winter and stop looking at the pandemic with rose-colored glasses.
"By the time you mobilize the distribution of the vaccine and get a majority or more of the population vaccinated and protected, that's likely not going to happen until the end of 2021," Fauci told MSNBC. "If you're talking about getting back to a degree of normality prior to COVID, it's going to be well into 2021, towards the end of 2021."
Because of the slow mobilization of the vaccine — even if it arrives by election day as Trump wants — Fauci reminded everyone that soon we're going to be battling the coronavirus and flu season, and to top it off, everyone is going to start returning to more indoor activities.
"Don't ever, ever underestimate the potential of the pandemic. And don't try and look at the rosy side of things," Fauci told a panel of doctors at Harvard Medical School on Thursday. "We need to hunker down and get through this fall and winter because it's not going to be easy."
"Being indoors absolutely increases the risk" of transmission, Fauci said in an interview with MSNBC. "I am concerned when I see things starting indoors, and that becomes more compelling when you move into fall and winter season."
Last month, Fauci explained that once we get the vaccine, we'll also still need to wear masks and practice social distancing.
"It's going to depend very much on what the percent or level of efficacy of the vaccine is," Fauci told Bloomberg, explaining that the vaccine will not be 100% effective. "I would be very happy with 70, 75 percent [efficacy], and I would be accepting of 50 to 60 percent, because that would be value added, superimposed upon and complementary to public health measures. So if we don't get a vaccine that is highly, highly, highly effective, even though it could still be a good vaccine, I think we would have to have some degree of attention to public health measures."
Currently, a number of drug companies are racing to develop a COVID-19 vaccine, all in various stages of development including clinical trials. Although Trump has told the CDC to prepare to distribute the vaccines as early as November 1, the collective drug companies have publicly stated that they will not release any vaccine or rush it out before it's safe, ready, and sufficiently tested.
This article was originally published on