'Enjoy Halloween': Fauci Says Trick-Or-Treating Should Be Ok This Year
by Julie Scagell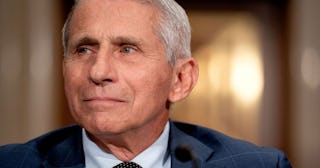 STEFANI REYNOLDS /Getty
He urged those not yet vaccinated to do so
Dr. Anthony Fauci has spoken, and he says Halloween should be fun and safe for kids this year. This comes as vaccination rates continue to increase and the U.S. is seeing a gradual decline of new COVID-19 infections after battling the Delta variant for much of the summer.
"I think that particularly if you're vaccinated, you can get out there. You're outdoors for the most part ― at least when my children were out there doing trick or treating ― and enjoy it," Fauci said on CNN's State of the Union Sunday. "I mean, this is a time that children love. It's a very important part of the year for children."
He stressed the importance of getting vaccinated if you aren't already, especially with the holiday season coming up and many making plans to see family and friends, adding that it was a "good time to reflect on why it's important to get vaccinated."
He continued: "Go out there and enjoy Halloween as well as the other holidays that will be coming up," Fauci said, giving parents some much-needed good news.
The number of new infections, hospitalizations, and deaths that are COVID-19-related is steadily falling in recent weeks with the U.S. averaging about 95,000 new cases a day. This comes as vaccinations continue to increase and boosters for some Americans are becoming available. As of Oct. 9, a total of 187,215,471 Americans had been fully vaccinated, 56 percent of the country's population, according to the CDC's data. The organization, and Fauci, want to see that number higher.
Fauci said continued, saying the numbers are "certainly going in the right direction." He was asked about removing indoor mask mandates, and he remarked that until case numbers drop below 10,000 per day, wearing a mask is another way to keep numbers trending downward and keeping those unable to get vaccinated safe and healthy.
"But we have to just be careful that we don't prematurely declare victory in many respects. We still have around 68 million people who are eligible to be vaccinated that have not yet gotten vaccinated," he added. "And even those who have been vaccinated, I mean, you want to look forward to holiday seasons and spending time with your family and doing those sorts of things, but don't just throw your hands up and say it's all over."
His remarks come as the head of the CDC, Dr. Rochelle Wolensky, also said Halloween outdoors should be safe for kids this year, adding that families still need to stick to small groups and not hold indoor parties, especially for those under 12 who are unable to be vaccinated.
"If you're able to be outdoors, absolutely," Walensky said on CBS's Face the Nation.