Your Favorite TV Show Is A Board Game Too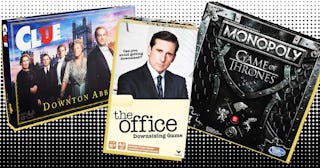 Scary Mommy and Amazon
If you thought your favorite shows were fun to watch on TV, just wait — these game versions will let you interact with your most beloved characters on a whole new level. Grab your friends and family, make some popcorn, and turn that binge watching session into a board gaming marathon!
Can you make it through a week at Dunder Mifflin without getting downsized? Episode-specific gameplay will have you and your team rolling as you try to last until Friday.
Based on the Friends episode "The One With the Ball," this game comes with a replica of — you guessed it — the ball from the episode, and features five increasingly more difficult rounds with 50 Friends-themed challenges.
Grab up to 16 (!) of your closest friends — and a cheesecake, of course — for a rousing round of everybody's favorite old lady game based on the adventures of everybody's favorite old ladies.
If you love both Stranger Things and the '80s, this one will be right up your alley. With 1,500 trivia questions centered around the show and the decade, plus a retro-looking game board, you can school your friends (or your older kids!) with your impressive knowledge.
It's the classic mystery game you know and love, but with a Downton Abbey twist — Mr. Carson needs your help to solve the mystery of a stolen valuable. With exclusive Downton Abbey-themed tokens and miniatures, this game is the "whodunit" fun every fan needs.
With original artwork from the show's creators, Bob's Burgers fans will love this fast-paced game, where the object is to be the first to get rid of all the food on your plate.
You may not be able to catch new episodes of Breaking Bad any more (sniffle), but it's still binge-worthy — and now you can immerse yourself in the show by playing this board game, as either a criminal or a member of law enforcement.
Even if you don't have the brain of a physicist, you can still geek out with over 400 questions based on The Big Bang Theory and its characters (and play a few rounds of Rock, Paper, Scissors, Lizard, and Spock in the process).
It's Monopoly like you've never seen it — straight outta Westeros. Instead of houses and hotels, there are holdfasts and castles. Each square is a location from the show, and the game even features a miniature iron throne card holder that plays the theme song. Just call it (Board) Game of Thrones.
America's longest-running animated series, The Simpsons was a part of our childhoods, and chances are your kids are familiar with the characters too — which is why the whole family will love this cooperative word and picture game. Help your teammates locate secret agents hidden within a grid of Simpsons-specific images, using only one-word clues.
If you like spending your Sundays with the undead, liven up your game night with the board game version of the show (which, by the way, is the most watched cable drama in history). Start out as a survivor and hang on for as long as you can, collecting supplies and making it safely back to camp — and if your character doesn't make it, you come back as a Walker!
TV buffs will appreciate this game that isn't inspired by just one TV show — it's got 50 years worth of the most beloved shows to play around with! The included DVD has over 200 clips (which are randomized for a different gameplay experience every time), and with 1,200 trivia questions, there's no shortage of fun.
If anybody's ever given you crap for the amount of hours you spend watching your favorite shows, you can proudly tell them you're switching it up. Sort of.
This post contains affiliate links, which means we receive a small portion of the sale if you make a purchase using these links.
This article was originally published on