FDA Authorizes Use Of Pfizer's COVID-19 Vaccine For Kids 5-11
by Valerie Williams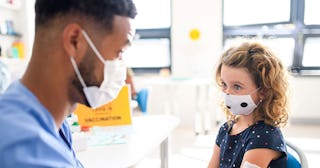 Halfpoint/Shutterstock
Per the FDA, kids ages 5-11 are now eligible for Pfizer's COVID-19 vaccine
Parents, it's finally happening — the Food and Drug Administration (FDA) has approved Pfizer's COVID-19 vaccine for use in children ages 5-11. It's been a long wait but now, the FDA has opened the door for 28 million children to receive their shots. The lower dose formulation of the adult-size vaccine was found to be safe and 90.7 percent effective in preventing COVID.
The FDA acted today after an advisory committee of independent scientists voted to recommend the use of Pfizer's shot for kids in the 5-11 age group. The FDA says the emergency use authorization is based on a study of approximately 4,700 children ages 5 to 11.
"As a mother and a physician, I know that parents, caregivers, school staff, and children have been waiting for today's authorization. Vaccinating younger children against COVID-19 will bring us closer to returning to a sense of normalcy," said acting FDA commissioner Janet Woodcock, M.D. in a statement.
Before the vaccine can be released to doctors, pharmacies, and other points of distribution, there will be a meeting of an advisory panel to the CDC next Tuesday. Depending on what that panel decides, CDC director Dr. Rochelle Walensky would then have final approval on the vaccine.
Some FDA advisory committee members did question whether all kids in the 5-11 age group need the vaccine or whether it should be limited to kids at higher risk of developing more serious illness. FDA panelist Dr. Paul Offit, head of the Vaccine Education Center as Children's Hospital of Philadelphia, called the decision on whether or not to make the shot available to millions of kids after studies involving only a few thousand participants "nerve-wracking."
Offit said, "The question is when do you know enough? And I think we certainly know that there are many children between 5 and 11 years of age who are susceptible to this disease who could very well be sick and are hospitalized or die from it."