FDA To Parents: Don't Give Babies Homeopathic Teething Products
by Jerriann Sullivan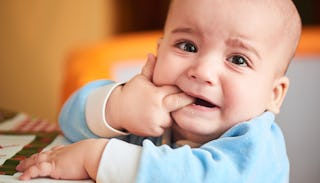 Image via Shutterstock.
FDA says homeopathic teething tablets and gels pose serious risks to infants, children
It's natural to want to soothe our babies during the painful process of teething. But screaming, crying, and pain-filled sleepless nights are nothing in compared to what the U.S. Food and Drug Administration says could possibly be caused by homeopathic teething tablets and gels. If you have them in your home, the FDA wants you to stop using them immediately and throw them away.
"Consumers should seek medical care immediately if their child experiences seizures, difficulty breathing, lethargy, excessive sleepiness, muscle weakness, skin flushing, constipation, difficulty urinating, or agitation," the government agency wrote in a press release this week. The teething tablets and gels are used on infants and toddlers and claim to help kids deal with the often painful process of teething. They're incredibly easy to find and are distributed by CVS, Hyland's and others.
Despite being able to find them almost anywhere, the products haven't been evaluated or approved by the FDA. Health officials at the agency explained that they can't say the homeopathic teething tablets and gels are safe or effective. While the makers of these popular teething products claim they help, the FDA told reporters that "the agency is also not aware of any proven health benefit of the products."
Back in 2010, the FDA warned parents not to use homeopathic teething tablets and gels after it allegedly received reports of babies having experienced negative side effects – including seizures – from the products. While the FDA is still testing product samples it did release a safety alert that said "Hyland's Teething Tablets contained inconsistent amounts of belladonna, a substance that can cause serious harm at larger doses," CBS News reported.
"Teething can be managed without prescription or over-the-counter remedies," Janet Woodcock, M.D., director of the FDA's Center for Drug Evaluation and Research shared. "We recommend parents and caregivers not give homeopathic teething tablets and gels to children and seek advice from their health care professional for safe alternatives." But what would be another option? Henry Spiller, MS, D.ABAT, director of the Central Ohio Poison Center at Nationwide Children's Hospital told reporters that low doses of acetaminophen and ibuprofen COULD be used to help infants and toddlers.
"That's normally very helpful around bedtime or nap time to help with the pain," he explained. "But you'd probably want to talk to their pediatrician to make sure you get the dose right." If your baby has had a bad experience with these products, the FDA asks that you report it to them here.
This article was originally published on