There's A Fear That Comes With Loving Someone Who Struggles With Depression
by Kimberly Zapata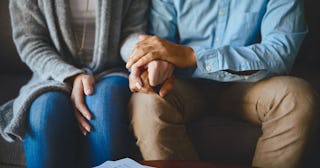 PeopleImages/Getty
Depression is common. Very common. According to the World Health Organization, more than 264 million people live with this condition, including swimmer Michael Phelps. In a recent interview with TODAY, the Olympic-gold medalist opened up about his struggles with depression and how his illness affects his family. "I've had some scary ups and downs," Phelps told TODAY. "Sometimes I just want to curl up into a ball in a corner. I need to be alone or I feel like I should be alone [and while] Nicole loves me and wants to help, she wants me to get better, she's also struggling herself… I know it's hard for her."
This isn't the first time Phelps has shared his story. In 2018, he told a hushed audience at a mental health conference at the Kennedy Forum he had contemplated suicide. And while Phelps' interview was captivating, especially to me — someone who lives with bipolar disorder, anxiety disorder, and PTSD — it was a follow-up interview with Phelps' wife which caught my attention. Because Phelps' wife, Nicole, shared what it's really like to live with and love someone with depression.
"After Vanessa [Bryant] lost Kobe, all I could do was look at Michael and be like, 'Can we please help you? Because if I lose you, I don't know what I'm gonna do,'" Nicole, 35, told TODAY. "Michael is the most amazing father and partner I could have ever asked for." But Nicole worries. She also admits it's hard.
"It's difficult because I want to hold space, not only for my children, but for my husband, too," she said. "When Michael's having a day, I want to be there for him as much as I possibly can. I want to take care of everyone." But that is a tough task. "I used to think, 'Oh, I can fix him. I can be his therapist. I can be what he needs,'" she revealed. "But what I've learned is that you can't take ownership for how they're feeling, no matter how badly you want to."
Of course, Nicole is not alone. Millions of people know, love, and/or support someone with depression, including Kristen, whose partner lives with this condition. "The hardest part for me is the frustration of not being able to say 'the perfect thing' to snap them out of a depressive episode," Kristen says. "I know they're hurting and I know their brain is lying to them, but I can't 'fix' things, and that's difficult. It's hard."
A mother of three, whose name has been withheld at her request, shared a similar sentiment. "The hardest part of my daughter's depression [for me] is the helplessness. Watching her suffer and knowing that, other than supporting her, all I can do is ride the wave with her, is torture."
My own husband has expressed both frustration and fear. He has told me on numerous occasions that he wants to help me but doesn't know how. But that's not all. All three individuals we spoke with shared a similar fear. "The thing I'm most afraid of is death by suicide," Kristen said.
"I worry I'm going to lose you," my husband admits.
The good news is that, in most cases, depression can be managed and treated. According to the Mayo Clinic, medications and psychotherapy are effective for most individuals living with depression. Alternative therapies, like sleep and dietary changes and exercise, may also help alleviate symptoms. For some, other procedures, called brain stimulation therapies, are useful, and familial support is huge. While my husband cannot "save" me from my illness (or me) his support — and the support of my friends — means everything.
It means the world, and others agree.
"I tell my daughter repeatedly that I'm here, and I'm not going anywhere. We won't stop fighting this until we get you out of this. And she hears me and tells me that helps," the mother of three says. "But the thing I haven't told her is that she is a gift and a joy in my life, even when it's hard and scary. I think she feels like a burden when things are bad but she's never a burden, and I don't know how to fully express to her how much she matters and how much every part of her, including the dark parts, are so incredible and how grateful I am for her."
If you or someone you know is struggling with depression, contact the Substance Abuse and Mental Health Services Administration national helpline at 1-800-662-HELP, text 741-741 to speak to immediately with a trained counselor at Crisis Text Line, and/or find a therapist, psychiatrist, and/or support group in your area.
This article was originally published on