If You're Feeling Anxious, Here Are 12 Items That Might Help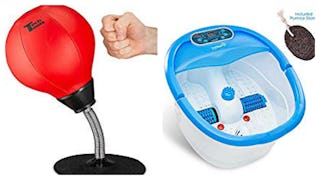 AMAZON.COM
Are you are on edge or nervous for an upcoming life change? Perhaps you are simply freaking the hell out and aren't sure why. Whatever the situation, we have 12 products that are sure to help you slip into a calmer state of mind.
This isn't just any massager — it heats up and fits perfectly on your neck and shoulders. Its shape makes it great for all areas of your body as well, like your legs. It's small and can easily be stored in a carry-on, or large purse for easy travel.
Weighted blankets have been known to calm, soothe, and almost mimic getting hug. We love this adult-size cozy blanket.
All you need to do is order this diffuser that comes complete with 8 essential oils, and are on your way to having a home that smells lovely. The added benefit is it smelling certain scents may take the edge off your stress level.
Fidgets aren't just for kids, we love them too. These are great for adults to play with, and come in handy if you are nervous about a presentation, or struggle to be still while you are processing your day.
Get it all out by writing all down. Journals are a safe place to put all the things you are thankful for, as well as daily struggles. This is the perfect one to get you started.
Salt lamps cast the most warming, comforting glow and are said to soothe allergies and boost your moods.
What could be more relaxing than coming home to a good book and having a heated wrap to drape yourself in? We love this soft, heated wrap. Just be warned: You may never want to take it off.
These head massagers may look like a torture device, but believe us, they will put you in a trace in less than 2 seconds. Make sure to get two, one for the living room for when you are watching television, and one by your bed.
The scent of lavender doesn't have to be saved for bedtime. You can burn a relaxing lavender candle all day long to stay in a calmer state.
These aren't just soft slippers, they will keep your feet toasty for up to 30 minutes after they take a quick spin in your microwave.
We love having pretty toes, but our favorite part of getting a pedicure is the soak and massage part. If you're too tired to leave the house, or can't afford to get a pedi on the regular, this soaker/massager is a great investment.
Let's face it, we all need to punch something at one time or another. Since people are off limits, you might want to get yourself one of these desktop punching bags to relieve some pent up stress and angst.
Stress is a part of daily life and lighting a candle, a relaxing massage, or punching something can help all of us keep our stress levels a bit lower. So, go ahead and indulge in a few goodies for yourself.
We may earn fees from purchases made via links on this page and affiliated sites. All opinions are our own.
This article was originally published on