Feeling Down About The World Lately? Virginia Special Election Candidate Has An Important Message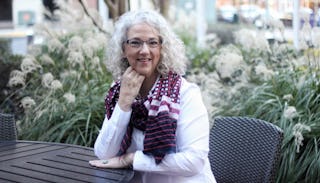 Cheryl Turpin
2016 was a long slog of a year with one tragedy after another, and let's cut to the chase, a lot of us are feeling angry, sad, disillusioned, frustrated, or some combination thereof.
Much as we might wish we could hibernate our worries away, change doesn't happen that way. As cliché as it sounds, change happens one step at a time and one person at a time. While it might seem that all was lost in the most recent election, there is still hope.
We can start by looking to the special election happening right now in Virginia. While many of us are drowning our fears in eggnog, Cheryl Turpin is knocking on doors and advocating for change in the special election race for an open seat in the Virginia House of Delegates. A dedicated educator with years of hands-on experience in local politics, when the vacancy was created by the election of the existing legislator to Congress in November, Turpin seized the opportunity.
In a toss-up district in a swing state, Turpin is the voice we need in politics, especially when it comes to protecting children and women's rights. A dedicated educator, Turpin is passionate about public education, supports a reduction in mandated testing so that instructional time is increased, and wants to provide full-day public kindergarten for every child. She is dedicated to supporting families by protecting and providing health care for everyone in the state and demanding a minimum wage that is an actual living wage.
With two grown daughters, she is also dedicated to promoting women's rights and fostering women empowerment. "We, as women, need to lift each other up," Turpin said.
But lifting each other up is about more than words; it's about action, which Turpin takes very seriously. In fact, she and a group of friends have formed the Secret Ovarian Sisterhood as a way of encouraging each other to reach out to women in need. After hearing more about the SOS, there's only one question left to ask: Can we join? Because SOS is exactly what the world needs.
For instance, a few weeks ago, while Turpin was shopping at a convenience store, the clerk complimented her scarf as "exquisite." A few days later, Turpin returned to the store with the blue scarf in hand and gave it to the clerk because "she needed it more." Similarly, when the group learned that a local mom became homeless, Turpin's friend invited her family over for Christmas dinner.
"Women have to realize that women need women," she said. "When you educate a woman, you educate a family."
While many of us are feeling hopeless, helpless, and voiceless, Turpin reminds us that positive change is doable, one step at a time. She's rolling up her sleeves, digging in, bracing for the long haul, and ready do to the hard work it takes to be an agent of change. When asked what advice she would give for those of us who want to be more socially and politically involved, but are unsure of where to start, she said: "Start locally and find your passion."
Using your interests and passions will naturally lead to ways to be more involved in supporting those interests and passions, Turpin said. "We all have a voice," she added. "We can't stop speaking. We have to keep trying."
Turpin told Scary Mommy that she has seen firsthand the power of the nation's post-election angst. In the past few weeks, she has seen donations pour in from all over the country.
"This is the beginning of a grassroots movement," she said. "There is an incredible energy being poured into the campaign. People are taking their negative energy and looking for someone to champion their interests."
"What can I do?" you might be asking. Well, if you live in Virginia, get out there and vote in the Special Election on January 10. For those who live outside of Virginia, you can still support the cause by donating money to Turpin's campaign, making calls to those in Virginia's 85th district, and spreading the word to others about the importance of this special election. Given that redistricting will likely happen in 2020 as a result of the census, it is more important than ever for people to pay attention to state political races.
But even more than that, get involved. Forward this article. Share information about Cheryl Turpin and other local elections with your friends and social media circles. Get involved with causes you support. Donate to organizations who support those causes. Whatever it is, do something. Every little bit counts, because as cozy as a fleece blanket is and as tasty as Kit Kats are, they aren't going to make the world any better.
"This is about having hope and giving energy," Turpin said. "It's about telling the Trump Administration: 'Here we are. We're going to fight back and create change.' This is doable, one step at a time."
Let's do it, friends.