Feeling Helpless After The Pittsburgh Synagogue Shooting? Here's How You Can Help
by Wendy Wisner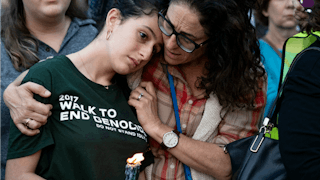 NurPhoto Contributor / Getty Images
This past Saturday, a gunman armed with an AR-15-style rifle walked into the Tree of Life Congregation Synagogue in Pittsburgh, Pennsylvania, and shot and killed 11 people. The victims ranged in age from 54 to 97 years old, and included two brothers and a married couple.
The perpetrator, 46-year-old Robert Bowers, shouted anti-Semitic slurs as he shot the victims. His recent social media posts clearly convey that he is a white nationalist and anti-Semite; as he was receiving medical treatment after the shooting, Bowers reportedly told a SWAT officer that he "wanted all Jews to die."
If all of this makes you want to cry, scream, and rage, you are not alone. Unfortunately, we are at a place in American history where hate crimes against all people are rising, and so in a way, we should not be surprised that something like this happened.
And yet, it's shocking and sickening any time innocent people are senselessly murdered because of hate, ignorance, and bigotry.
Although anti-Semitic incidents have seen a sharp rise in the past few years, Saturday's attack is believed to be the single most deadly attack on Jewish people in American history, according to the Anti-Defamation League.
This in and of itself is horrifying to consider.
As a Jewish mother and granddaughter of Holocaust survivors, I can't tell you how disturbed I have been over the past few days. We says #NeverAgain, and yet, here we are. Whether you are of Jewish descent or not, a tragedy like this touches us all, and we can't allow it to continue.
So what can we do to stop more hate crimes like this from continuing, and how can we help those directly affected the Saturday's massacre? We've compiled a list of things you can do right now to make a difference. Even just a few dollars helps; you may also find volunteer opportunities at many of these organizations, or local vigils to join.
Donate To The Anti-Defamation League (ADL)
Founded in 1913, The Anti-Defamation League (ADL) is an organization dedicated to "stopping anti-Semitism and defending the Jewish people." In addition to working with law enforcement, schools, communities, and the criminal justice system to fight anti-Semitism, the ADL's mission is to call out all "coercion of religious minorities, and contempt for anyone who is different." To find out more how to donate to the ADL, or to join a gathering or vigil for the shooting victims, click here.
Donate To The Jewish Federation of Greater Pittsburgh's Victims of Terror Fund
This local Jewish community organization is accepting funds to help support and rebuild the devastated Pittsburgh community. As they describe on their website, funds raised will be used to provide "psychological services, support for families, general services, reconstruction, additional security throughout the community, medical bills for all those involved, as well as counseling and other services that may prove necessary in the future." Additionally, they will be donating resources to local religious and day schools to help as these children process the tragedy. Donate here.
Volunteer With Bend The Arc
Bend The Arc is a movement of progressive-leaning Jews across the country who are working toward making the world a more equitable, safe place for all. On their website, you can find links for actions you can take alongside them, including participating in local vigils for victims of the Tree of Life shooting and phone banking for the upcoming election.
Donate or Volunteer to HIAS.org
With the idea that almost all of us came to America as immigrants or refuges – and that Jewish people in particular fled Europe in large numbers during the Holocaust – HIAS is a Jewish organization dedicated to providing education, resources, and legal assistance to refuges into this country.
Infuriatingly, Robert Bowers, the gunman of the Tree of Life shooting, specifically blamed HIAS (and Jewish people by extension) for what he perceived to be "invaders" that had come in to "kill our people" — which is obviously completely illogical, incorrect, and bigoted.
You can get involved with HIAS by donating, starting a fundraiser, or joining an action campaign.
Donate To The Tree Of Life Synagogue's Go Fund Me
Directly following the attack, a Go Fund Me for Tree of Life was created to "help the congregation with the physical damages to the building, as well as the survivors and the victims' families." To date, the fundraiser has received over $640,000 in funds—and counting.
If you'd prefer to donate directly to the Tree of Life Synagogue, you can do so here.
Donate To The "Muslims Unite for Pittsburgh Synagogue" Fund
Hoping to send a "united message from the Jewish and Muslim communities that there is no place for this type of hate and violence in America," two Muslim-American groups, CelebrateMercy and MPower Change, have banded together to raise funds for victims of the shooting. As of Monday morning, they have raised a whopping $125,000, which will be donated to help pay for funeral expenses, medical bills, and the needs of loved ones affected the tragedy. The fundraisers encourage people of all faiths to donate. You can find a link to donate here.
VOTE!
We have a president who stays up all night tweeting hateful, violence inciting rhetoric. It is undeniable that the hate that he supports and encourages is related to the spike in violence and hate crimes in his country. We can't vote him out till 2020, but in a little more than a week, we all have the chance to make our voices heard and elect some more reasonable, kind, decent folks to local and federal offices.
So please, VOTE. Vote like your country – and your life – depend on it. Because they just might.
Oh, and get every person you know to the polls this November 6th. If someone can't get there, offer them a ride. Seriously, we need all hands on deck — and to vote some good, upstanding citizens into office PRONTO.