10 Instagram Accounts That Will Give You Your Daily Dose Of Girl Power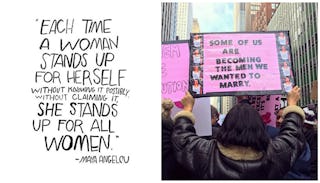 image via Feminist Voice/ Petra Collins
Artists and activists on Instagram to follow for your daily reminder of how amazing women are
Today is International Women's Day. Every year March 8th is a day to celebrate the accomplishments of women and look to for ways to further our quest for equality. This year's celebration is particularly special, as the Women's March has organized A Day Without A Woman event.
Whether you're staying home from work today or participating in another way, everyone can use some feminist inspiration in their lives. Instagram is full of accounts that are empowering women every day, and we've gathered some of the best to help remind you how brave, powerful and fierce women can be.
Tara Booth
Booth's drawings about everyday life as a woman are utterly relatable.
Awesome Luvvie
Luvvie's one of the funniest writers around on the intersection between politics, race and feminism. What's extra awesome? Her book I'm Judging You is a New York Times bestseller and was just optioned as a show by Shonda Rhimes.
Virgie Tovar
Self-proclaimed "fat feminist" and founder of the #losehatenotweight movement, Tovar's writings will help you feel the self-love every day.
Mari Andrews
Andrew's drawings are beautiful, emotional and honest, and will make you wonder if she's secretly reading your mind.
Feministastic
https://www.instagram.com/p/BRUU19zlPqu/?taken-by=feministastic
Breakup a feed that's filled with food and pictures of your friends' kids with posts from Feministastic. Their bite-sized memes about feminism are a great way to educate yourself and others.
Lara Witt
https://www.instagram.com/p/BRRMp5Wj2Bz/?taken-by=femmefeministe
Witt speaks openly about difficult issues surrounding race and feminism. Her Self Care Sunday column is a great read for anyone who identifies as a woman.
Laura Callaghan
Callaghan draws pictures of women doing everything things, like taking out the trash or hanging out with friends. Her comic book style illustrations show these everyday women as they really are — total badasses.
Feminist Voice
https://www.instagram.com/p/BRHIy6vBX4c/?taken-by=feministvoice
Feminist Voice will fill your feed with diverse images and memes promoting social and racial justice.
Tess Holliday
https://www.instagram.com/p/BRJyIsEBN88/?taken-by=tessholliday
Holliday's a mom, model, feminist and body positivity activist. Her hair always looks amazing, and her posts will inspire you to embrace yourself as you are.
Petra Collins
https://www.instagram.com/p/BPiVMT7Brtj/?taken-by=petrafcollins
A photographer with an amazing eye, Collins specializes in capturing women in all their glorious forms.