US Soccer Claims Men's Team Should Be Paid More Because Women Are Less Skilled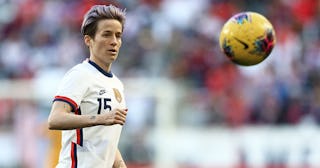 Mike Stobe/Getty
Among the claims by the federation is that women are 'less skilled' and 'not as fast'
Members of the US Women's National Team (USWNT) have been locked in a bitter lawsuit fighting for the same pay as the men's team. Attorneys for their employer argued in a court filing Monday that the reason they're paid less is because female athletes are "less skilled" and work in a less demanding job than their male counterparts.
The court documents filed were part of US Soccer's attempt to prove it has not discriminated against the World Cup champion team based on their gender. In part, the organization cited the Equal Pay Act, stating "The job of a [men's national team player] carries more responsibility within US Soccer than the job of a [women's national team] player."
The federation has been deposing members of the women's national team, including Carli Lloyd and Alex Morgan, asking questions like, "Do you think that the team could be competitive against the senior men's national team?"
"I'm not sure," Lloyd said to the lawyer. "Shall we fight it out to see who wins and then we get paid more?"
The federation also pointed to the biological differences between men and women, calling them "indisputable science" as an argument for why women should be paid less than men, saying the men's game "requires a higher level of skill" and that the women "weren't as fast" as the men. Now is probably a good time to mention the USWNT won its fourth World Cup title in France just last year. It doesn't matter how fast you run if you don't score a goal. They aren't asking for more pay because they are a better team, they are asking for things to be equal.
The men have won zero (0, nada, zilch, nil, naught, zip) World Cups. The closest they got was in the 2002 World Cup when the U.S. team reached the quarter-finals. Before that, they placed third. In 1930. But I digress.
As US Soccer defended its position, a lawyer for the organization asked Morgan, "Do you think it requires more skill to play for the US Men's National Team than the US Women's National Team?"
"No," Morgan replied. "It's a different skill."
The federation also mentioned that the men's team players often face openly hostile fans at their own home games, citing this as evidence men work in a different, more demanding job than women. Then women everywhere collectively asked, "Please explain to us, dear sirs, what is a hostile work environment? That must be horrible to work in," and laughed and laughed and cashed their fake checks for doing this since forever.
The case is set to go to a jury trial in May, where the US women's team is asking for $67 million in back pay for violation of the Equal Pay Act. Since 2015, US women's team games have generated more revenue than men's team games, but FIFA refuses to acknowledge this because it the prize money paid for the men's World Cup is significantly larger. Sounds like "not their problem" to me.