A Firefighter Is Dead As A Result Of Wildfire Started By Botched Gender Reveal Party
by Leah Groth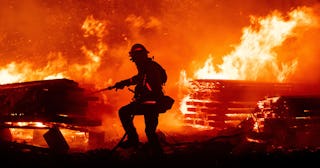 JOSH EDELSON/Getty
A firefighter has lost his life as a result of the El Dorado Fire, which was sparked by a gender reveal party
The El Dorado Fire in California, started on Sept. 5 as a result of a botched gender reveal party, has been one of the most devastating of the 2020 wildfire season. As of Friday morning, the flames have destroyed over 21,600 acres of land, spread across two counties, and is just 66 percent contained at this point. On Friday, the San Bernardino National Forest Service also revealed the truly heartbreaking loss of a firefighter who was battling the deadly inferno started by two parents-to-be who opted to light off a "smoke-generating pyrotechnic device" in the midst of wildfire season.
The forest service released a brief statement on Friday, on both their website and on Twitter, confirming the death.
"USDA Forest Service officials on the San Bernardino National Forest have confirmed the death of a firefighter on the El Dorado Fire," they wrote, noting that the incident took place on Thursday. "The name is being withheld pending notification of next of kin. Our deepest sympathies are with the family, friends and fellow firefighters during this time."
They added that the cause of the fire is under investigation and "details will be made available as they are confirmed."
Dave Corbin, Assistant Chief of Divisions 5 and 6 of the San Bernardino Fire, identified the individual as "Cory" on Thursday, expressing that the department "lost a good man."
The El Dorado Fire started over Labor Day weekend in El Dorado Ranch Park in Yucaipa, a city about 70 miles east of Los Angeles. Fire officials revealed that they obtained a video of the gender reveal involving a group of people with several children lighting a device on dry grass. The grass around the device caught fire, and the family reportedly attempted to extinguish it with water bottles. The family did call 911 and have been cooperative in the investigation, even sharing photos and videos with authorities.
At the time, officials noted that several laws were broken. According to the New York Times, prior to the firefighter's death, Captain Milloy said that criminal charges were being considered. However, they would not be filed before the fire was extinguished, likely because other charges — for example, the one's potentially related to the fireman's death — could arise. Captain Milloy added that Cal Fire could also ask the family to reimburse the cost of fighting the fire.
"I can't speak on their behalf," Captain Milloy said of the family, "but personally, I can only imagine how terrible they have to feel for a lot of reasons."
Vice Presidential hopeful Kamala Harris promptly shared her condolences, thanking all of the "nation's courageous firefighters and fire responders" who "risk their lives to protect our communities."
No matter how you feel about gender reveal parties, if you do decide to have one, please consider refraining from doing anything that involves fire — especially if it happens to be in the midst of fire season.
This article was originally published on