Here's Your First Look At Tom Hanks As Mister Rogers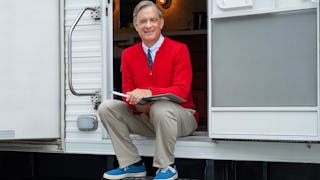 Image via Sony Pictures
In case your heart needed a little warming today, Tom Hanks as Mister Rogers should do the trick
It's been a hard week — that's a fact, not opinion. So hard, in fact, that the typical "puppy video" internet palate cleanser isn't quite enough. We need something stronger. Thankfully, the first photo of Tom Hanks dressed as Mister Rogers was released. Right on time, honestly — we needed this more than we realized.
Before I say anymore, just look.
Mister Rogers on his own is basically the picture of wholesomeness. Tom Hanks, however, is also pretty dang pure and universally beloved, so to combine the two is simply the shot of joy and calm we needed this week. That bright red sweater, khakis, and sneakers coupled with his warm smile is making hearts burst.
Hanks is about to star in a film about Rogers and his relationship with journalist Tom Junod (played by Matthew Rhys), who in 1998, was working on a profile for Esquire of the television star but instead, walked away from the experience of getting to know the icon a changed man.
Of course, people positively lost it when they saw one much-loved icon dressed as another:
https://twitter.com/jetpack/status/1045390243900329985
But others pointed out that maybe this is just too good for 2018 and our current climate.
Then again, maybe it's literally needed — so we don't completely lose our minds.
Not to mention, Hanks is the perfect fit for the role.
Bottom line, we just need this so bad.
I was a big Mister Rogers fan growing up — I still am. Sometimes I wonder what he would think about the dark turn this country's taken in the last three years and how he would guide us through it. I know without a doubt he would have wisdom that would make me reach for a whole box of tissues, but sadly, we won't ever know. Rogers died in 2003 at age 74.
Thankfully, despite no longer being with us, he's seemingly everywhere lately with a documentary about his life being an unexpected hit this past summer. The film, titled Won't You Be My Neighbor?, details Rogers' role as star of the long-running children's series Mister Rogers' Neighborhood.
The new film, as yet untitled, is slated for release in October 2019. AKA, not nearly soon enough.