Rescue Efforts Are Underway To Save Stranded Locals In North Carolina
by Thea Glassman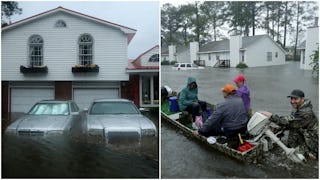 Image via Chip Somodevilla/Getty
North Carolina first responders are working around the clock to save stranded residents
Stranded residents along the North Carolina coastline are waiting to be rescued as Hurricane Florence continues to tear through. First responders are trekking through flooded streets and wreckages to save locals who didn't evacuate ahead of the storm.
Around 300 residents in New Bern, NC were rescued by Saturday morning, ABC News reported. Another 100 people are still stuck in their homes, cars, and rooftops. Three first responder teams are working 24/7 to get those remaining residents to safety. In the meantime, Mayor Dana Outlaw has instituted a 24-hour curfew. "It's just a very, very dangerous situation right now for New Bern," he told Good Morning America.
New Bern local George Zaytoun decided to stay in town despite evacuation orders. He told GMA that he's regretting his decision. "I think we kind of let our guards down. In hindsight, yes, I would have probably gotten out of here," Zaytoun said in a phone interview. "It's like a bomb has gone off here. Everything around us is underwater."
He told the news station that floodwater had peaked at almost 15 feet the previous night and waves are continuing to crash in. Pictures from the scene are terrifying and show a city almost completely submerged in water.
North Carolina's Governor Roy Cooper cautioned residents to stay put in their homes and go to the highest floors possible. There have already been four reported deaths from the storm. A mother and her infant were struck by a tree in Wilmington, NC. One man died while plugging in a generator.
Before condemning people who didn't evacuate — it's important to remember not everyone can. In order to pack up your entire life and family and leave, you need money. The ability to be able to evacuate your home and travel somewhere safe is a privilege not everyone has.
Nearly one thousand out-of-state first responders have flocked to North Carolina, ready and willing to help as many people as they can. Capt. Mike Jamieson and his firefighters from South Bend, IN drove twenty hours to reach North Carolina and offer their services. "Took a two hour nap because we just weren't going to make it and we didn't want to come in here dragging," Jamieson told CBS News.
Gov. Cooper told NPR that it's going to take communities months and years to recover from all of this awful damage. But that's all in the future. Right now, his only priority is to make sure everyone is safe.
"Florence is an uninvited brute who doesn't want to leave," he said. "…We've spent the last week telling people to evacuate. Now we're working very hard to save lives. That is the No. 1 mission right now."