'First Wives Club' Legends Are Reuniting For A New Movie
by Cassandra Stone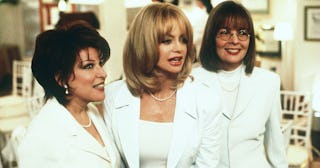 Getty Images
Bette Midler, Diane Keaton, and Goldie Hawn are officially reuniting for the first time since 'The First Wives Club'
Legendary actresses Bette Midler, Diane Keaton, and Goldie Hawn are ready to collaborate to bring us cinematic joy for the first time since 1996 and The First Wives Club. This is not a drill, folks. This epic trio will grace the big screen and our hearts once more in a new comedy, scheduled to begin filming later this year.
Family Jewels will be a multigenerational comedy where the three main characters (Midler, Keaton, and Hawn, obviously) are forced to spend the Christmas holidays together, along with their children and grandchildren, after the man they were all once married to suddenly drops dead in a New York City department store.
So, basically a new kind of wives club? Inject it directly into my veins, please and thank you.
"The chemistry of Diane, Bette and Goldie is unmatched and irresistible, and I'm thrilled to help reunite them onscreen for generations of fans," producer Bradley Fischer says in a statement.
[Author cues up "You Don't Own Me" by Leslie Gore, clears throat]
In case you've never seen The First Wives Club or read the book (HOW DARE), it's brilliant. After a divorced socialite dies by suicide after battling depression caused by her ex-husband leaving her for a younger woman, her three college besties reunite after 30 years and decide to "avenge" her death (of sorts). The divorced threesome realize that all of their ex-husbands have been total assholes and that it's time for revenge. Lots of hijinks, brilliant comedy, and tender moments ensue. It's a treasure. (Sarah Jessica Parker and Elizabeth Berkley are also extremely fun to watch as supporting characters.)
All three actresses are 74 and headlining a movie that's basically a surefire hit already, with fans everywhere salivating at the mere thought of this group working together again. That is the kind of energy we need in 2020. Ageism, schmageism. Talent is talent and these women possess it in droves — not to mention their penchant for comedic timing, charm, and charisma.
And people are here for it.
Most recently, Hawn was in Snatched with Amy Schumer and starred in The Christmas Chronicles with her longtime love Kurt Russell. Midler recently appeared on Netflix's The Politician. Keaton, who appeared on stage at this year's Oscars ceremony with the one and only Keanu Reeves, her former co-star from Something's Gotta Give, has been in HBO's The Young Pope, and the adorable movie Book Club.
BRB, counting down the days until their new movie is in theaters.